Separating Industry-Leading Capabilities from Marketing Hype
The commercial payments business is rapidly transforming due to market pressure to be faster, more efficient and less expensive. Additionally, customers want the innovative idea flow and rapid development cycles of fintechs combined with the trustworthiness, stability, scale, and security of major financial institutions.
Banks will need to harness digital innovation to improve operational efficiencies, as well as create new revenue streams using their rich proprietary datasets to unlock advanced analytics and drive client insights. There is high potential for long-term differentiation for those that can balance finite investment capital with a proliferation of technologies.
Our Future of Commercial Payments Benchmarking program helps banks to prioritize investment spend by allowing management teams to:
Discover where they are on their digitization journey
See capability gaps today, one year out, two years out and beyond
Gain insight into which capabilities peers are developing internally vs. externally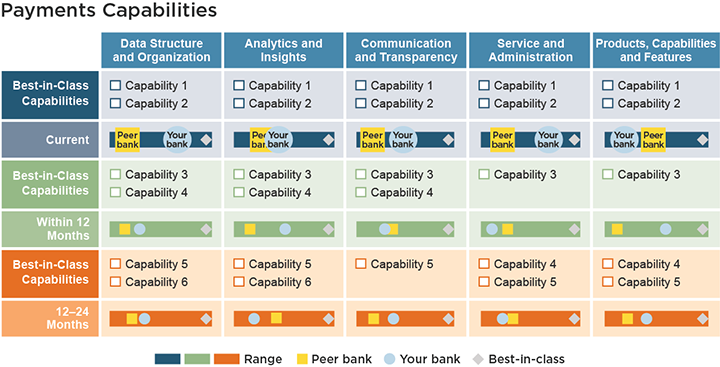 Topics include:

Organizational structure of data
Straight-through processing
Internal vs. external storage & processing
Internal & external integration
Use of AI/ML/OCR & predictive analytics




Customized and automated insights and alerts
Transparency to clients
Real time integrated payments, fraud detection,
and reconciliation
Automation/digitization of ACH, wires, collections,
lockbox, receivables & payables, commercial cards, merchant services, FX
And much more
Participation is easy and anonymous.
To learn more, fill out the form to receive a sample deck or ContactUs