Table of Contents
Treasury Volumes
U.S. Treasury trading volumes remained elevated in January averaging $573bn a day. While this is down slightly from $615bn daily during December's volatility, it reflects what seems to be a sustained increase in market activity as compared to a year ago.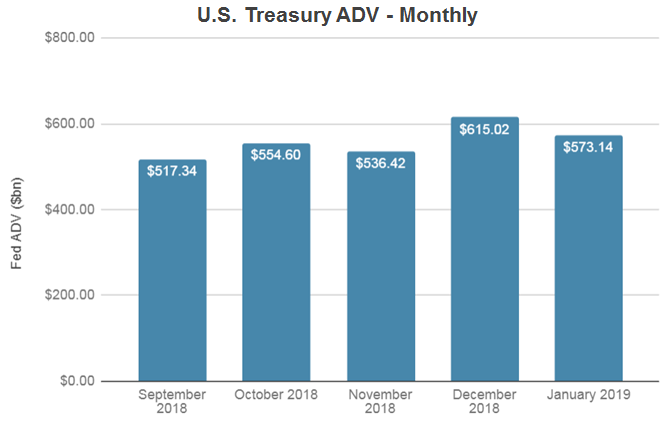 Trading Platform Market Share
Nasdaq rebounded slightly in January following its fourth quarter outage, as Brokertec slowed after facing an outage of its own in January. Both outages reminded the market how important electronic trading platforms are to the U.S. Treasury market, both for their liquidity and the pricing data that they provide. However, the existing of 7 platforms and there various trading mechanisms and tools should provide comfort that the system can continue to function even in the midst of technical outages.
To that end, FENICS UST, LiquidityEdge and Tradeweb all saw their volumes grow on a month-over-month basis despite their relative market shares remaining flat.
Electronic Trading
Slightly more than 65% of U.S. Treasury notional volume traded electronically in January, with 43% of trading volume between dealers and clients trading on the screen. This reflects no real change on a relative basis looking back over the past quarter. Trading protocol usage also saw no real change in the month, with voice trades shrinking slightly at the hands of moderate growth from RFQ and direct streaming.
Dealer Holdings
Dealers cut their U.S. Treasury holdings through most of January as the U.S. Federal Reserve signaled it would be "taking a break" from its hawkish policies. Although that change will likely be short lived, as bond buying picked up again at the end of the month with holdings reaching new highs of $235 billion on January 30th.
SOFR
Despite some angst about using SOFR as the world's Libor replacement, volume and open interest in CME's SOFR futures contract continues to climb. While this analysis is primarily based on January data, we should note that open interest for CME's SOFR contract hit a record 100,000 contracts on February 19th with volumes for that day topping 50,000 contracts; a far cry from the just over 9,000 contracts that traded on September 1, 2018.
Futures vs. Cash
In November 2018, the notional volume of CME futures contract tied to U.S. Treasuries equated to 117% of volume traded in the underlying bonds. Volatility and the need to hedge certainly played a role here. Such spikes are also common during the futures roll period.  January 2019 has that ratio back down to the current rate of equilibrium, 63%.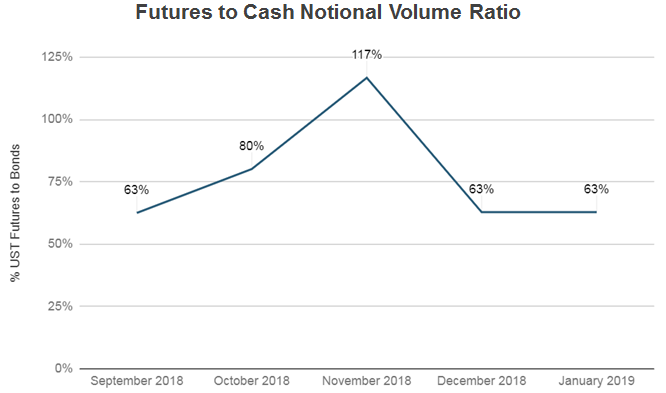 To learn more about our new Market Structure Trends:Dynamic Data offering, and to get access to the data used for this analysis updated daily, please contact us.