Greenwich Associates, part of CRISIL Limited (an S&P Global Company), is the leading global provider of data, analytics and insights to the financial services industry.  We specialize in providing unique high value data and actionable recommendations to help our clients improve their business results.
Our data products, analytics and insights originate from two primary sources:
Data we collect from influential buyers of financial services. These buyers include fund managers, hedge funds, pension funds, endowments, large corporations, small & mid-sized businesses, and consumers.

Data provided by banks, asset managers and other third-party partners. This data includes financial and operational data relating to customer revenues, costs, activity levels, onboarding, and technology.
Our products and services focus on the key insights, metrics and advice our clients need to manage all aspects of their business and are organized across a 'Plan, Measure, Act, Promote, Digitize' workflow spectrum.
Specifically we help our clients: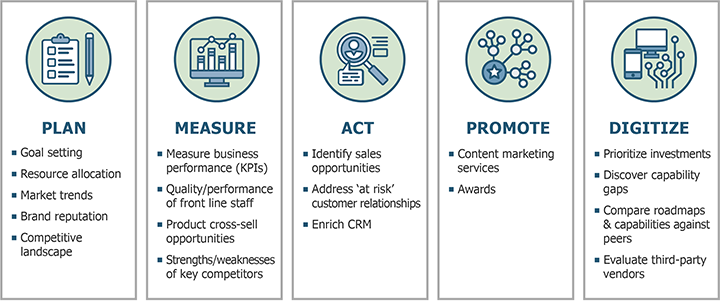 Based in Stamford, CT, Greenwich Associates was founded in 1972 and has more than 200 professionals working in offices in Stamford, London, Toronto, Singapore, and Tokyo. Our clients include nearly all of the leading investment banks, commercial banks, and asset managers around the globe. Our clients also include a rapidly growing number of technology firms, securities exchanges, ratings agencies, government entities, and other companies in the financial services ecosystem. (View representative client list)
In February 2020, Greenwich Associates was acquired by CRISIL Limited, a leading, agile and innovative global analytics company driven by its mission of making markets function better. CRISIL is majority owned by S&P Global Inc.
Incorporated in 1987, CRISIL is India's foremost provider of ratings, data, research, analytics and solutions. CRISIL has delivered independent opinions, actionable insights, and efficient solutions to over 100,000 customers, who range from large corporates to investors and top global financial institutions.
CRISIL operates from India, the United States (U.S.), the United Kingdom (U.K.), Argentina, Poland, China, Hong Kong, Singapore and the United Arab Emirates (UAE), and has global employee base of over 3000 professionals comprising analysts, data scientists, quants, technologists, and other top-draw talent from around the world.
To learn know more about CRISIL, click here.