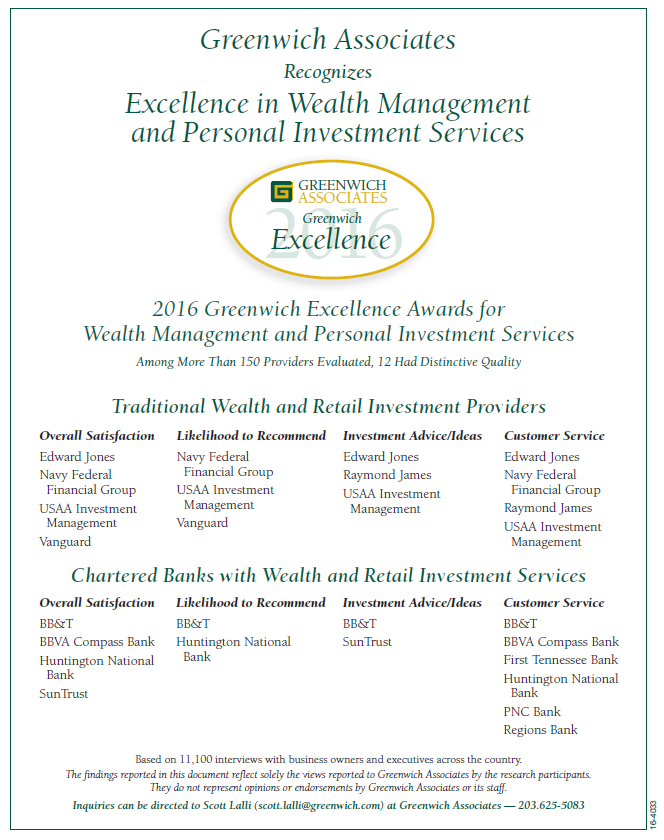 Methodology
Greenwich Excellence Awards for Wealth Management
Greenwich Excellence Award winners were determined at a National level. To qualify for consideration of an award, each winning wealth management provider had to have a minimum of 40 clients that responded to the survey. 
Greenwich Excellence Award selection is based on Top Box ratings on Greenwich Associates 5-point evaluation scale.  The wealth management providers selected must receive a statistically significant proportion of "Excellent" ratings relative to the overall mean (at a 95% confidence level).
Traditional Wealth and Retail Investment Providers vs. Chartered Bank Provider
The Greenwich Excellence Awards for Wealth Management were offered to two different types of providers:
Traditional Wealth and Retail Investment Providers
Chartered Banks with Wealth and Retail Investment Services
To win an award wealth management providers had to be differentiated among peers falling in the same provider type group.
The following Greenwich Excellence Awards for Wealth Management were offered in 2016:
Overall Satisfaction
Likelihood to Recommend
Investment Advice/Ideas
Customer Service