The 2019 Greenwich Quality Leaders℠ in U.K. Institutional Investment Management Service are Baillie Gifford and Insight Investment. These asset managers have distinguished themselves from competitors by delivering superior levels of client service that help institutional investors achieve their investment goals and objectives.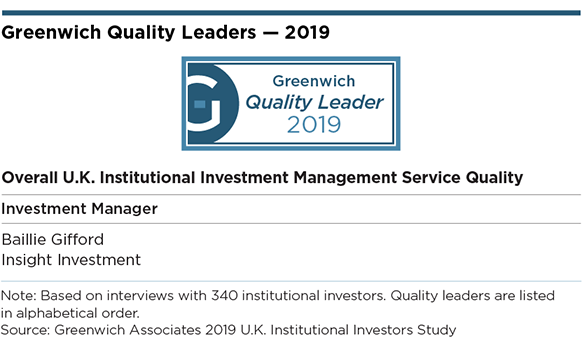 Consultants Mark Buckley and Markus Ohlig advise on the investment management market in the United Kingdom.
Methodology
During the first quarter of 2019, Greenwich Associates conducted in-depth interviews with 385 key decision-makers at the largest institutional funds in the United Kingdom. Institutions included U.K. corporate funds, local authorities and other institutional funds, each with over £75 million in total defined-benefit plan assets, defined-contribution plan assets or other institutional assets.