The 2019 Greenwich Quality Leaders in U.S. Institutional Investment Management Service are AB, Baillie Gifford, NISA Investment Advisors, and PIMCO. These asset managers have distinguished themselves from competitors by delivering superior levels of client service that help institutional investors achieve their investment goals and objectives.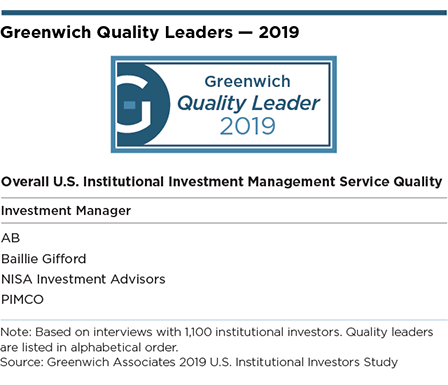 Consultants Andrew McCollum, Davis Walmsley, Sara Sikes, and Susan Gould advise our investment management clients in the United States.
Methodology
Between July and October 2019, Greenwich Associates conducted interviews with 1,100 senior professionals at 896 of the largest tax-exempt funds in the United States, including corporate and union funds, public funds, endowments and foundations, insurance general accounts, and healthcare organizations, with either pension or investment pool assets greater than $150 million. Study participants were asked to provide quantitative and qualitative evaluations of their asset managers and investment consultants, including qualitative assessments of those firms soliciting their business and detailed information on important market trends.