Executive Summary

Asset managers can no longer rely upon consistent market appreciation as the main source of growth. As the industry matures, it will be much more difficult for institutional asset managers to grow and maintain current levels of profitability. But it will not be impossible.
On the contrary, the market still presents viable and attractive opportunities for managers capable of adapting to the new environment. Doing so will require change in the way managers:
Pursue clients, sales and growth,
Market their products and their firms, and
Execute their strategies on a day-to-day basis — especially in distribution.
In this paper we'll take a deeper dive into what it will take for managers to compete and succeed in a maturing industry characterized by slowing growth, increased competition and pressure on margins.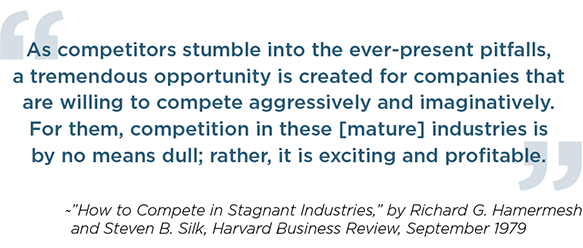 Executive Summary
Asset managers can no longer rely upon consistent market appreciation as the main source of growth. As the industry matures, it will be much more difficult for institutional asset managers to grow and maintain current levels of profitability. But it will not be impossible.
On the contrary, the market still presents viable and attractive opportunities for managers capable of adapting to the new environment. Doing so will require change in the way managers:
Pursue clients, sales and growth,
Market their products and their firms, and
Execute their strategies on a day-to-day basis — especially in distribution.
In this paper we'll take a deeper dive into what it will take for managers to compete and succeed in a maturing industry characterized by slowing growth, increased competition and pressure on margins.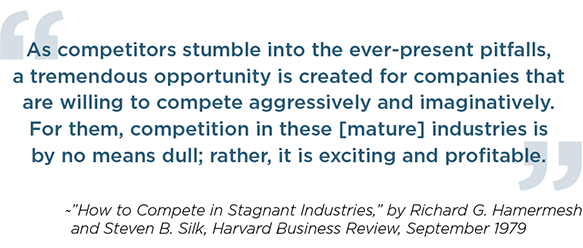 Introduction
Sometimes the best way to prepare for the future is to look to the past. There is no doubt that the asset management industry is maturing. However, this is far from the first time that a previously fast-growth industry has slowed. Outside of financial services, industries ranging from automotive to petroleum to athletic apparel have matured. Closer to home, commercial banking, investment banking or securities trading have all transitioned from growth industries to more advanced stages of development. Given this, there are clearly lessons to be learned from firms that successfully compete in a mature business.
After culling through the countless academic studies on the topic, Greenwich Associates identified three common characteristics of businesses that have succeeded in mature industries:
They creatively identify and exploit growth segments within their industries;
They emphasize product quality and innovative product improvement; and
They systematically and consistently improve the efficiency of their production and distribution systems.
In this paper, we'll take a close look at all three of these timeless strategies, which should be embraced and developed by asset managers as they seek ways to grow and thrive in a lower-growth, ultra-competitive and maturing market.

A Maturing Market
The tailwinds that propelled the asset management industry in the 1990s and early 2000s won't be making a return appearance any time soon. In fact, at least in the near term, the industry is unlikely to match the growth rates achieved in the recovery years following the global financial crisis of 2008.
Almost all observers agree that market returns and asset growth rates will be significantly lower in the coming decade than they have been since the financial crisis. That means slower growth for the asset management industry. Limited asset growth will fuel competition, as managers look to expand by capturing clients and assets from rivals. That competition will be exacerbated by the entrance of new competitors, be they investment consultants and dedicated OCIO providers or fintech firms that will, at some point, look to expand their foothold in financial markets beyond retail and into the institutional space.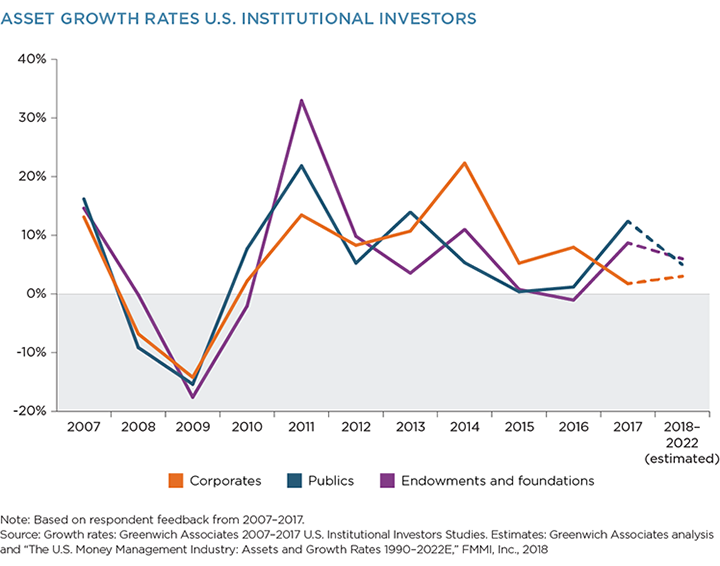 All these developments are occurring against the backdrop of investors' well-documented embrace of passive strategies, which has already put pressure on fees and industry profit margins and shows no sign of relenting. They are also taking place within the longest bull market on record for stocks, and in an environment of relatively strong economic growth. Pressure on asset managers will ratchet up much further when the market cycle turns, as it inevitably will.
This pressure will fuel consolidation—possibly at a level to transform the institutional market. Historically, this market has been so fragmented that discussions of market share were largely irrelevant outside of very specific markets and niche products. But extensive consolidation could produce asset management behemoths capable of capturing meaningful institutional market shares.
All these signs point in the same direction: to an asset management market that is maturing—and one that will require new strategies for growth and profitability.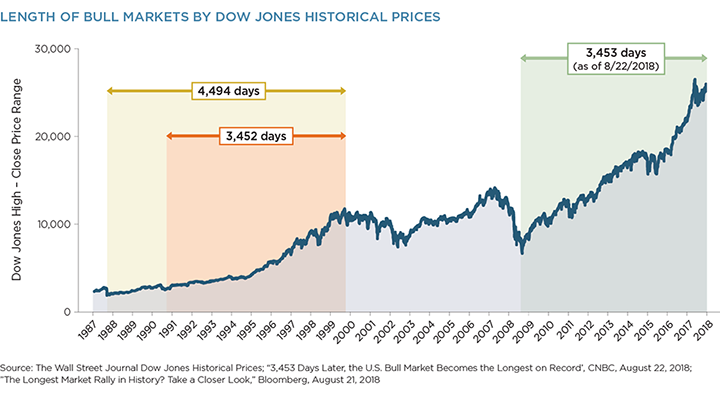 Competing in a Mature Industry: Creativity Required
Going forward, asset managers will not be able to rely on market appreciation for growth. They will have to find and access new growth sources, even as they take steps to preserve profit margins squeezed by competition from both low-cost index products and aggressive asset management rivals. These conditions will put a premium on one characteristic not generally associated with institutional asset management: creativity.
There are many examples from other industries of companies that have thought "outside the box" to find growth where others saw status quo and stagnation:
While virtually everyone else looking at the movie theater business saw a depressing drop in attendance and revenues, Maya Cinemas' management team saw opportunity. Although Latinos make up just 18% of the U.S. population, they represent about a quarter of regular filmgoers. Latino audiences are younger than other ethnicities, and they see the most in-theater movies per year. By targeting this one attractive segment, Maya Cinemas was able to achieve strong growth in a declining market.
Starbucks didn't revolutionize the coffee market—it created a market that had never before existed. Just 30 years ago, most Americans drank cheap, canned supermarket coffee—usually at home. No one ever imagined that millions of people would pay a premium price for higher-quality coffee drinks and the opportunity to consume them in an inviting "third place." That was until Howard Shultz decided to replicate the Italian coffee bar experience in the U.S., ultimately creating today's $72 billion icon.
Uber didn't create a new market—after all, people have been paying for rides since before the invention of the combustible engine. But what founders Travis Kalanick and Garrett Camp did do was apply new technology to an old industry, revitalizing a staid market, displacing an intrenched taxi cartel and revolutionizing transportation.
3M is regularly included in lists of the world's most innovative companies. The company holds twice as many as patents as Google. How does it maintain this level of creativity? The company has institutionalized innovation by creating a three-tiered organizational structure consisting of Scouts who find new ideas, Entrepreneurs who develop them into products and Implementers who take new offerings to market. The company's long-term track record of successful new product launches proves that innovation is not an accident.
It's unlikely that institutional asset management will be transformed as quickly and dramatically as some of the industries cited. However, the pace of change has picked up in recent years and is set to accelerate significantly with the proliferation of new technology.

Artificial intelligence (AI) has already made its mark in the retail market with robo-advisors and other tools, and asset management firms across the board are experimenting with machine learning and other technologies in research and portfolio management. On the distribution side, asset managers are using AI to develop increasingly sophisticated client segmentation capabilities (much more on this later). Fifty-seven percent of financial services executives interviewed by Greenwich Associates plan to implement AI in the next 12 months; 18% already have.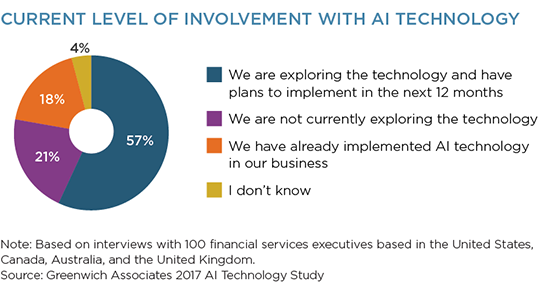 More generally, asset management firms are coming up with new ways to incorporate technology into their offerings. One recent example is Goldman Sachs Asset Management's decision to release a web-based investment dashboard to multi-asset and OCIO clients, giving them access to the tools that GSAM uses internally to measure risk.
Other examples of innovation center not around technology, but new investment approaches like environmental, social and governance (ESG) investing or "smart beta" strategies, which could open lucrative new opportunities for both asset managers and investors. Some managers are even pursuing new partnership models to facilitate entry into highgrowth markets like China or experimenting with new fee structures that enable greater alignment with client goals and objectives.
These initiatives represent the type of bold experimentation asset managers will have to undertake to maintain historic growth and profitability rates in a maturing market.
Strategies for Success
Unlike some of the industry disruptors highlighted in the last section, the vast majority of asset managers are not startups. They come into the current environment with existing products, clients, investment processes, distribution strategies, technology platforms, and geographic footprints. For these companies, they would be wise to pay close attention to the successful strategies—and missteps—of firms that have encountered similar situations in other industries. Companies that succeed in maturing markets share the following three characteristics.

Creatively identify and exploit growth segments
Maya Cinemas achieved growth in a shrinking industry by identifying a particular segment of the market that was actually expanding. To maintain current growth rates in a maturing market, asset managers will have to do something similar by finding emerging growth markets and avoiding areas of extreme competition. Luckily, we are entering a new age of data analytics that allows managers to target their strategies with a never-before-achieved level of specificity and sophistication.
When it comes to defining the winners in the next era of asset management, data will rule. Managers able to effectively use data and data analytics to empower their businesses will have an important and durable advantage over less-savvy competitors. The impact of data analytics will be felt across asset management business models, including within investment teams. But in the short- to medium-term, data analytics will feature most prominently in distribution.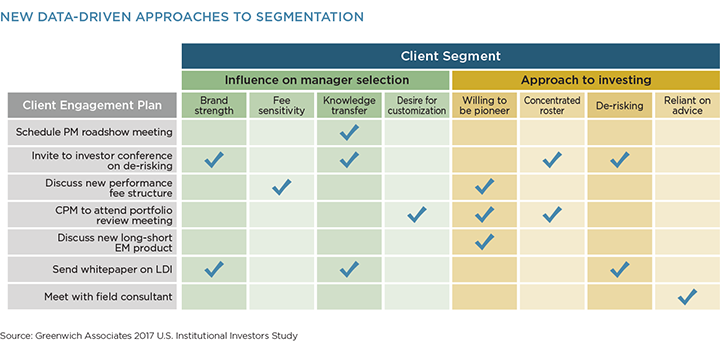 New data analytics will allow asset managers to build investor engagement strategies focused on narrowly defined market segments and subsegments. These categories will go far beyond traditional breakdowns of institution type, asset level and geography and will include groups of clients that share traits that until very recently were virtually impossible to identify and track.
Leading managers have been experimenting with "persona" segmentation over the past few years, grouping clients and prospects according to their needs and behaviors. In this new world of analysis, managers will find growth segments by grouping investors by even more specific, quantifiable characteristics, including influences on manager selection, approaches to investing, use of products, price sensitivity, and tolerance for risk and illiquidity, among other areas.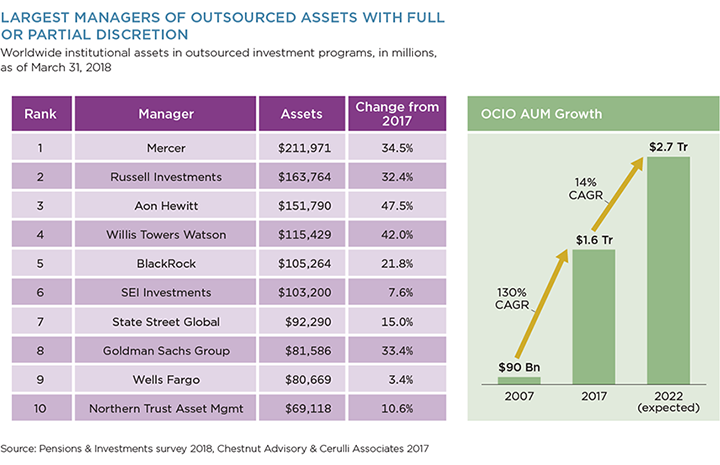 These enhanced analytic capabilities create unprecedented opportunities for asset managers to identify pockets of growth and find defendable niches—even in a maturing market. These opportunities might be found among new sources of assets, such as insurance providers, healthcareoperating assets, family offices, and other non-traditional institutional pools. Opportunities won't be limited to specific customer segments; growth can also be achieved by targeting emerging channels such as OCIO and sub-advisory mandates or emerging markets, such as China or Latin America.
Emphasize product quality and innovate product improvement
The best way for managers to resist fee pressure is to avoid any perception that their products are commodity products. That means resisting the impulse to ward off asset and client attrition by giving in and lowering fees, and instead, competing on the basis of product quality. That's easier said than done. Basing a business model on quality requires not only excellence in execution at all levels, but also regular innovation that maintains the premium value of the firm's products and services in a hypercompetitive market where competitive advantages are eroded in relatively short order.

Asset managers have carved out strong market positions by applying this type of innovation both as product specialists and as solutions providers. Successful product specialists have rolled out innovative approaches in areas including multi-asset and smart beta products that have quickly become standard components of institutional asset allocations. Managers with broader capabilities have harnessed and integrated their research and investment resources into solution factories that create custom strategies to address client needs.
Highlighting and marketing these distinctive products and capabilities is a much different task than selling traditional products through the traditional institutional distribution model. Conveying the idea that a firm's offerings have a qualitative advantage moves asset managers into the often unfamiliar world of branding.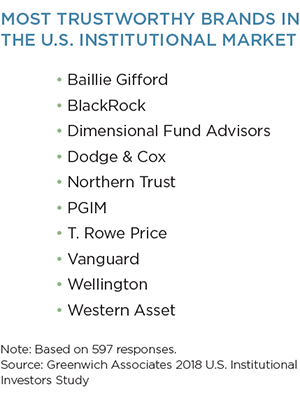 Until recently, branding was a non-issue in institutional asset management. Today, it is a front-and-center topic of conversation at industry gatherings. Building a strong brand helps fend off competition and resist fee pressure, and opens opportunities to develop strategic partnerships with the potential to increase asset retention and create growth through cross-sales.
One of the most effective brand-building tools in asset management is the deployment of intellectual capital through content marketing and thought-leadership programs. But managers should not enter this increasingly competitive space without the firm commitment of both senior leadership and the subject experts who will drive content creation to sustain a high-quality program, which requires resources and often, a significant time commitment from portfolio managers and/or other investment professionals.
Of course, you can only avoid getting sucked into the trap of price competition if you know the right asking price for your offerings. Knowing industry clearing prices is critical when fee levels are shifting quickly. This is another area where data is now king. It's no longer enough to rely on anecdotes and gut-level estimates from sales professionals. Asset managers need to establish a pricing strategy informed by real-world, relevant, and recent pricing information.
Systematically and consistently improve efficiency of production and distribution systems
Often, the words "improve efficiency" are taken as a euphemism for "lowering costs." There is no doubt that cost management is top priority for companies in slowing-growth markets and a central part of strategies to preserve margins in maturing industries. However, in the case of asset management, efficiency improvement cannot be reduced to cost reduction. Rather, we must stick to the literal definition of the word efficient: the ratio of useful output in a process to expended resources.
Simply put, in order to achieve growth and maintain margins, asset managers will have to get more out of their production and distribution systems while spending the same amount or less. Achieving this goal will require a combination of innovative technology application and disciplined management decision-making.

Technology offers opportunities to increase efficiency across the organization. We've already discussed how data analytics are ushering in a new era of client segmentation. At a strategic level, increasingly sophisticated segmentation will improve the efficiency of sales and distribution processes overall by more effectivity targeting prospects and clients.
At a tactical level, asset managers can use technology to increase the productivity and expand the portfolios of individual sales professionals, and to more effectively deploy the time of portfolio managers and other investment staff. Web-based sales presentations, online videos, blogs, or simply video conferences between PMs and prospects can dramatically reduce travel and costs, while allowing sales and investment professionals to reach more prospects and clients.
Often, a single technology application will create efficiency benefits in multiple areas—especially when it comes to data and data collection. For example, "know your customer" rules have created onboarding headaches for managers and clients alike. A good technology platform can make that process much quicker and less painful, and in the process, collect data on new customers that can be used to flesh out customer personas and hone client segmentation.
Technology can also have a direct impact on client service efficiency, which can create positive benefits that go far beyond costs. Many asset management firms are implementing professional customer experience management or CX programs designed to yield improvements in customer satisfaction and engagement over time.
The best of these programs start out by mapping the client journey "from cradle to grave," and include "closed-loop" processes that trigger action to address any one-off or more pervasive organizationwide problems. Managers that perfect CX and strengthen client satisfaction will reduce client and asset attrition rates—a key strategic imperative for companies competing in a maturing market.

Improving efficiency also requires organizations to continually reconsider which activities or products they will not support. This is the essence of disciplined management. Many organizations struggle with legacy platforms, products, or initiatives that consume resources, not to mention management mindshare. The ability to reduce focus and investment on these sunk costs can be the difference between the success and failure of a new, promising initiative.
Execution is Key to Profitable Growth
To the list of strategies required for success in a mature industry described above, we would add one final imperative: Demand excellence in execution, from every function—all the time. Regardless of strategy, asset managers competing in a slow-growth environment cannot afford lax execution in investments, distribution or any other aspect of their business. The most successful asset managers will be those that embrace the evolving environment, every day.

There are five keys to excellent execution in asset management:
People: Tell your people what you want to accomplish—not how to do it. It's senior management's job to create the right strategy, set clear goals, hire the best talent, and create a motivating environment. Once those pieces are in place, give your people the freedom to work.
Data: Don't shy away from the investments needed to generate and analyze data—including expenses related to both technology and talent. Because data can impact every aspect of the asset management business, these investments will pay off.
Measurement: In a fast-growing industry, top-line measures like AUM and revenue growth tell the story. In a maturing market, managers will have to dig much deeper to understand business results and optimize performance. Look at revenue from new products, margins on net new assets, retention rates, market share, and performance on monetary and non-monetary organizational goals.
Culture: Corporate culture impacts execution directly by creating an environment that influences daily behavior. An asset management firm that has embraced a client-centric culture and demonstrated this commitment by linking compensation to the results of a robust CX program will motivate employees to focus on day-to-day execution in client service and other key areas.
Mission: Culture will influence execution more broadly across the organization over time—especially with regard to younger employees. More so than previous generations, millennials are motivated by a sense of mission. For that reason, asset managers must define their missions as something more than growth. Those that are able to connect daily work with a higher mission or "noble purpose," will achieve higher levels of commitment, resulting in higher standards of execution.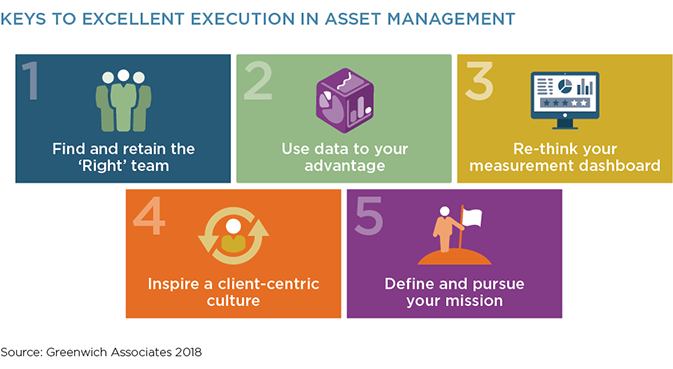 Conclusion
It won't be impossible for asset managers to grow and maintain profitability as their market slows and matures—but it won't be easy, either. Fortunately, there are lessons that can be gleaned from the experiences of companies in other industries that have downshifted from rapid growth to slow growth and even to stagnation. Chief among these lessons is that asset managers will have to "compete aggressively and imaginatively."

Specifically, asset managers must become more proactive and sophisticated in locating and targeting attractive growth opportunities, they must find ways to avoid price competition by differentiating themselves and their products on the basis of quality, and they must consistently improve efficiency in production and distribution. Finally, in a maturing market, they can never take their foot off the gas. To keep growing and remain profitable, asset managers will have to find ways to ensure excellence in execution across their organizations, every day.