Executive Summary
The growth in institutional investment in exchange-traded funds (ETFs) can be attributed to a single factor: versatility. Over the past five years, Greenwich Associates has documented the growth and maturation of ETFs as investment tools used by institutional investors. That pattern continued in 2015, with total ETF allocations increasing as some institutions adopted ETFs in their portfolios for the first time, and existing users found new applications for the funds.
All signs point to continued growth. Institutions participating in the Greenwich Associates 2015 U.S. Exchange-Traded Funds Study plan to take advantage of the inherent versatility of the ETF structure by broadening usage of the funds to include new portfolio applications and asset classes.
In this year's report, we take a close look at the underlying trends and developments driving this growth. An analysis of the latest study results reveals five primary drivers:
1. Existing institutional users are finding new applications for ETFs in their portfolios, and growing numbers are using ETFs as a primary vehicle to implement long-term strategies.
Sixty-eight percent of institutional ETF assets are now categorized as "strategic" in nature—a share that has climbed from just 58% in 2013 and 63% in 2014. The most popular application for ETFs within institutional portfolios is obtaining core exposures—undoubtedly a strategic function.
2. ETFs are taking on a larger and more important role in institutional fixed-income portfolios.
Sixty-five percent of institutional ETF users employ the funds in fixed income. Liquidity levels in traditional fixed-income markets have declined over the past several years, creating serious portfolio challenges for investors. Liquidity issues have led many institutions to adopt fixed-income ETFs, as ETF liquidity has increased dramatically over the same period. In 2015, institutions name liquidity as an important reason for investing in bond ETFs.
3. Institutions are using ETFs alongside derivatives.
ETFs are increasingly being evaluated along with derivatives to determine the best tool to hedge or gain market exposure. Almost 40% of the institutions in this year's study replaced derivative products, such as equity futures contracts, with ETFs in the last year, and 78% of futures users plan to replace an existing futures position with an ETF in the next 12 months.
4. Innovative ETF strategies and approaches are gaining traction among institutions.
Approximately 30% of institutions are employing smart-beta (non-market-cap weighted) ETFs, and an equal percentage are using currency-hedged ETFs. At the same time, asset managers offering increasingly popular multi-asset-class funds are using ETFs to fully implement strategies or scale their products. ETFs now make up 48% of assets in multi-asset portfolios, according to asset managers running these funds.
5. Insurance companies are adopting ETFs as a means of investing both surplus and reserve assets.
As recently as 2013 only 30% of insurance companies used ETFs to invest surplus assets, and only 6% used ETFs to invest reserve assets. This year, 59% of insurers in the study are using ETFs for surplus assets and 71% are using ETFs to invest reserve assets, higher than expectations.
As these five developments demonstrate, ETFs are taking on a much more important and strategic role in institutional portfolios. As a result, institutions are now adopting a more careful and discerning approach to selecting ETFs to achieve strategic investment exposures.

Introduction: ETF Expansion Rolls On
2015 was a record-breaking year for ETF growth in the U.S., with positive net flows of approximately $230 billion. U.S. institutions represent approximately 36%, or $756 billion, of the total $2.1T in U.S. ETF assets. That amount has steadily climbed over the past decade as institutional investors introduced ETFs to their portfolios and gradually built up ETF allocations. The results of the 2015 Greenwich Associates U.S. ETF Study point to continued growth, as existing users take advantage of ETF versatility to increase allocations to the funds and new institutional investors adopt ETFs.
The institutions participating in the study described a wide variety of benefits and applications that attracted them to ETFs:
"ETFs get pure market exposure at a very inexpensive cost. They offer the ability to access investments such as gold at a transaction cost that is significantly less than buying the physical commodity." – RIA
"They increase liquidity for corporate bonds, making them easier to trade." – Asset Manager
Approximately 43% of the institutional ETF users in the Greenwich Associates study—and 58% of the asset managers—invest 10% or more of total assets in ETFs. That share includes 14% of the institutions that now allocate at least half their assets to the funds, a finding that highlights the growing trend of asset managers using ETFs as multi-asset portfolio building blocks.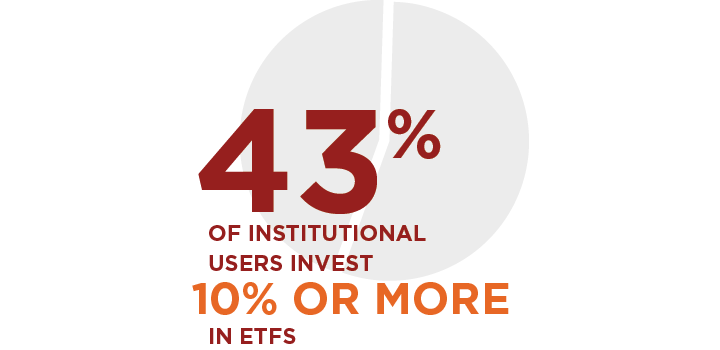 As institutions expand into new asset classes, they are pushing overall ETF allocations higher. Almost all of the ETF users in the study invest in equity ETFs, with domestic equity use approaching 90% and international use reaching 80%. After several years of growth, investment in fixed-income ETFs among institutional users has reached 65%, up from 55% in 2013. Also boosting overall allocation levels is continued demand for ETFs in commodities, where they are employed by 39% of the institutions in the study, and REITs, where usage hits 39%.

ETF allocations are expected to expand further in coming months. Thirty-five percent of institutional users of fixed-income ETFs expect to increase their allocations to these funds in the next year, with 36% planning to boost allocations by 10% or more.
Expectations for equity allocations also point to future growth. Thirty-six percent of institutional equity ETF users expect to increase ETF allocations in the year ahead, and 35% of those funds plan to raise allocations by 10% or more. "These increases will build on recent strong growth," says Greenwich Associates consultant Andrew McCollum. "Institutions have been bullish on ETFs since at least 2011, with 40–50% of institutions predicting sizable increases in ETF allocation in each subsequent year."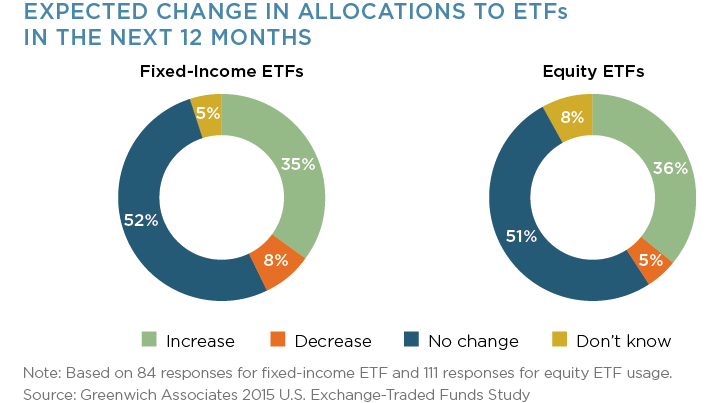 ETF investments will grow due to the continued influx of new institutional users. Study participants that do not use ETFs cite a variety of reasons for not investing. "We haven't found the right use for them at this point," said one insurance company non-user. "[We refrain from ETF investments] mostly on the advice of our outside consultant," said the representative of an institutional fund. "Cost is an issue," said another non-user. Greenwich Associates expects many of these and other current impediments to investing to gradually give way. As growing numbers of U.S. institutions successfully make use of ETFs, current holdouts among both investors and consultants will see how these funds are being employed by their peers in a cost-effective manner.
Nearly 20% of the non-ETF users participating in the study say they are considering adding ETFs to their portfolios in the next year. Each new institutional convert represents the potential for significant ETF growth. Most institutions initially start experimenting with relatively small investments in ETFs, but begin expanding allocations as they gain experience and confidence in the funds.
Five Underlying Drivers of ETF Growth
The results of this year's study reveal five primary drivers of ETF growth within institutional portfolios:
1. Institutions are finding new and increasingly strategic applications for ETFs.
2. ETF use is expanding rapidly in fixed income.
3. Institutions are using ETFs alongside derivatives.
4. ETF providers are innovating with new strategies and approaches.
5. Insurance companies are embracing ETFs.
Institutions Finding New and Increasingly Strategic Applications for ETFs
Greenwich Associates research has documented a clear progression in ETF adoption and use. Institutions first experiment with ETFs to accomplish a tactical task, such as executing a manager transition or obtaining short-term exposure for a cash position. This generally occurs in an equity portfolio and with a relatively small investment in ETFs, which are held for a relatively short period (e.g., during a manager transition). As ETFs prove an effective tool, the institution begins employing them more regularly, and allocations begin to build as familiarity and confidence in the products increase.
Over time, institutional users begin to recognize other, more strategic ways they could use ETFs in their portfolios. Once they start employing ETFs to gain core exposures and for other strategic purposes, holding periods lengthen and allocations increase further. This expansion often includes the introduction of ETFs to fixed income and other asset classes such as commodities and real estate, as well as the implementation of strategies that use ETFs to manage risk and portfolio liquidity.
The institutions in the study described some of the ways they are employing ETFs to achieve strategic portfolio goals:
"We use ETFs where it is difficult to get exposure to managers or managed accounts. It is a core part of the portfolio." – Institutional Fund
"We use them for liquid exposure to a sector or a specific part of the market of our choosing. For example, we are using them now to get into global natural resource equities." – Institutional Fund
"We use ETFs as a diversified bond ladder." – RIA
This evolution in institutional investment behavior—from tactical to more strategic and longer holding periods—is evidenced in the 2015 U.S. ETF study in which 68% of institutional ETF assets are described by institutions as strategic in nature. That share has been growing steadily from the 58% of assets reported as strategic in 2013. A similar trend has played out among RIAs, who now describe 76% of ETF assets as strategic, and institutional funds, who report 65% as strategic.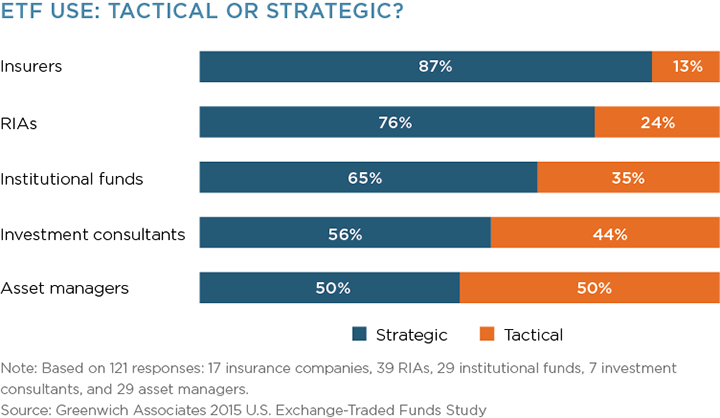 As ETF use becomes increasingly strategic, average ETF holding periods are gradually lengthening. Forty percent of ETF users reported average ETF holding periods of two years or longer in 2015. Among insurance companies that share jumped to 56% this year from just 29% in 2013.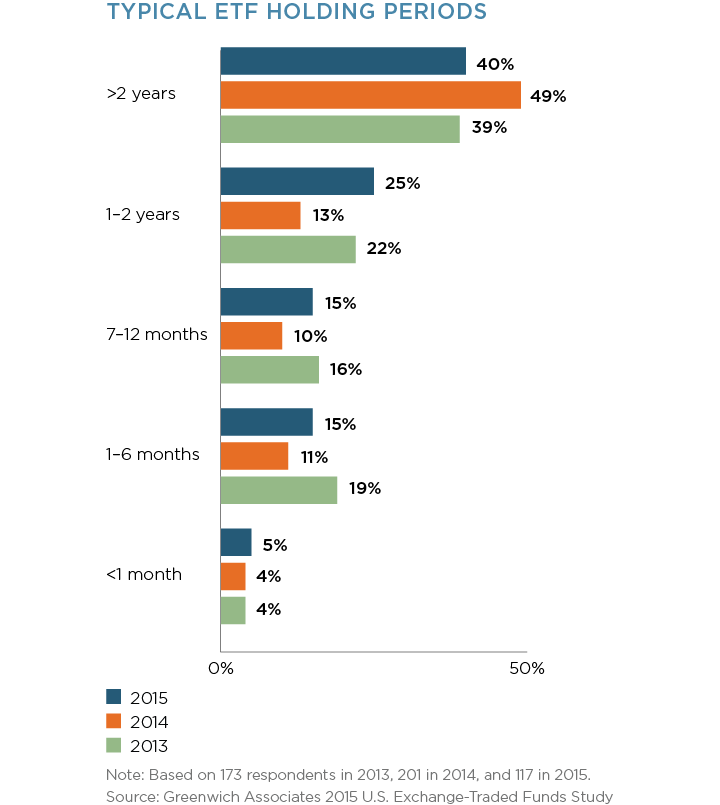 These findings represent a sharp shift from very recent practices in which large portions of ETF holdings were tactical in nature. Insurance companies for example, which are increasing their use of ETFs as a vehicle for investing reserve and surplus assets, estimate that 87% of their ETFs assets are strategic. At the opposite end of the spectrum, asset managers, who employ ETFs for a wide range of portfolio functions, say approximately 50% of ETF holdings are strategic.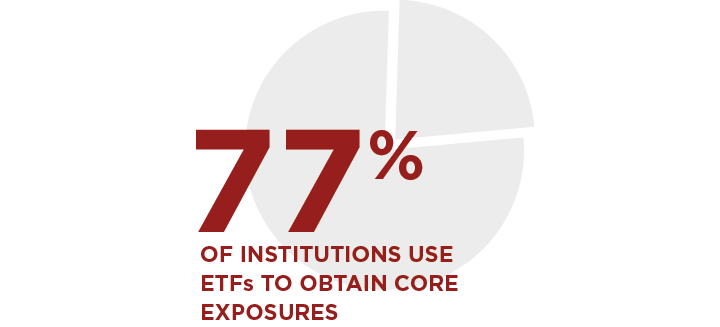 The extension in average holding periods is a direct function of a shift in how institutions are employing ETFs in their portfolios. Seventy-seven percent of institutions in the study list "obtaining core exposures"—an essential strategic task—as one of their primary ETF applications. Seventy percent cite "international diversification," making that strategic function the second most common application for ETFs.
Of course, institutions still regularly employ ETFs to accomplish tactical tasks. "Making tactical adjustments to the portfolio" ranks as the third most common institutional application of ETFs. On asset managers' list of most common ETF applications, tactical adjustments are followed by risk management/overlay management, international diversification, portfolio completion, core allocation, and rebalancing. "Asset managers in particular demonstrate the sheer variety of ways ETFs can be utilized in an institutional portfolio," says Andrew McCollum.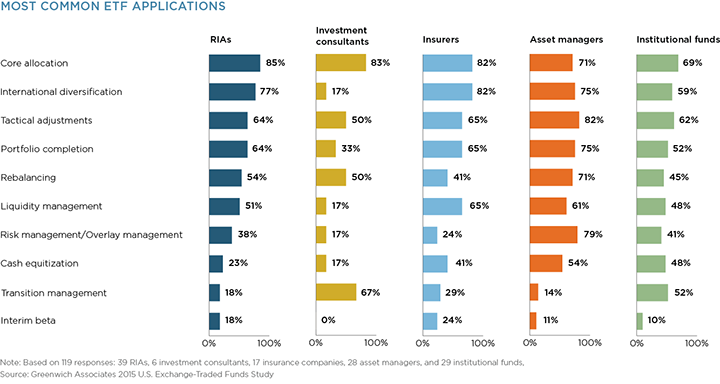 Fixed Income Expansion
"Liquidity management" is another common ETF application. Increasingly, fixed-income ETF liquidity has become an important catalyst for institutional demand of bond ETFs, helping drive growth in institutional ETF use overall.

New bank capital-reserve requirements and other regulations have forced major fixed-income dealers to pull back from their traditional role of market makers. This pullback has drained liquidity from global bond markets, making it harder for investors to find securities and execute trades needed to maintain their fixed-income portfolios. Two-thirds of investment managers who have experienced liquidity challenges say these shortages have directly impacted their investment processes, and increasing numbers of investors report that they are now forced to take liquidity into account when determining asset allocations and other aspects of their portfolios.
Meanwhile, ETF liquidity has been experiencing a rapid and dramatic expansion. Since 2008, bond ETF liquidity has grown 5.1x, or at an annual growth rate of 31%.3
Those dynamics are boosting institutional demand for ETFs. For asset managers, insurance companies and RIAs, liquidity is one of the top reasons for using bond ETFs. Asset managers and insurance companies place liquidity alongside "easy to use" and "quick access" as primary reasons for using ETFs in fixed income. For RIAs, "quick access" and "low management fees" match liquidity in terms of importance.
Institutions cite several other key reasons for using bond ETFs, including low management fees, single-trade diversification and low trading costs relative to cash bonds.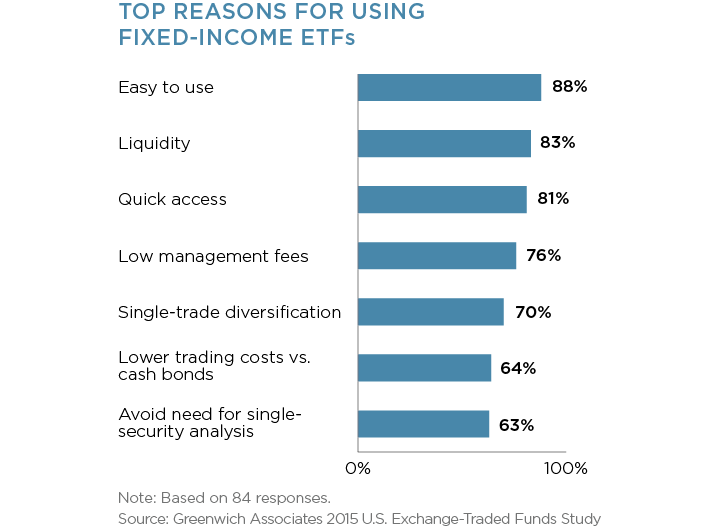 With approximately two-thirds of the institutions in the study now using ETFs for fixed-income exposure, this year's ETF study examined fixed-income usage by general product categories. The results: 54% of institutions overall are currently using ETFs for domestic credit, and 52% are using the funds in domestic government bonds. Twenty-six percent of institutions are using ETFs in international credit, and 31% employ ETFs for international government bonds.
About 1 in 10 institutional users have started investing in bond ETFs in the past 24 months—a sign that liquidity benefits and other advantages continue to attract new users. That said, some institutions remain hesitant to use bond ETFs. Greenwich Associates expects many impediments currently preventing institutions from investing in bond ETFs to erode, opening the door for additional growth. For example, 23% of institutions that do not use fixed-income ETFs say they have not invested in the funds due to their own lack of familiarity with ETFs, or because their trading or portfolio management platform does not currently support ETFs.
Such instances will become less common as the bond ETF industry matures and grows in size compared to the overall fixed-income markets. Likewise, Greenwich Associates believes that many of the 23% of non-users attributing their decision to internal investment restrictions will revisit these guidelines as ETF use becomes standard practice among institutions.
Finally, given the fact that so many institutions are adopting ETFs as a means of enhancing liquidity, it is likely that the 34% of non-users who attribute their decision to a lack of liquidity in fixed-income ETFs will reconsider as they potentially encounter challenges in the over-the-counter bond market.
Continued growth in the number of institutions investing in fixed-income ETFs for the first time—combined with the fact that 35% of existing users plan to make sizable increases to bond ETF allocations in the coming year—points to continued, steady growth. "That growth could accelerate if market liquidity continues to decrease and could spike if a market event were to result in widespread liquidity shortages," says Andrew McCollum.
ETFs Are Being Used Alongside Derivative Products
The 2015 study results include an important new finding that illustrates investors' increasing comfort and confidence in ETFs. Significant numbers of institutional investors are complementing or replacing their equity futures positions with ETFs to gain market exposure.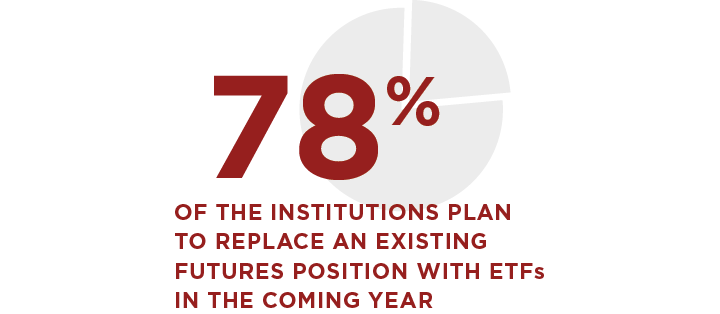 Three-quarters of U.S. institutions say they would opt for an S&P 500 ETF over an S&P 500 future as a means of obtaining the most cost-effective beta exposure for a fully funded S&P 500 position. In the past year, 39% of the institutions in the study say they replaced derivatives products with ETFs. The institutions made this switch for two main reasons: cost and operational simplicity.
Greenwich Associates believes the market is only beginning to see the impact of this trend, which will provide a source of strong growth for ETFs. Looking ahead, 78% of the institutions plan to replace an existing futures position with ETFs in the coming year, with 37% planning to replace an equity futures position, 26% planning to replace a fixed-income futures position, and 15% planning to make a switch in commodities.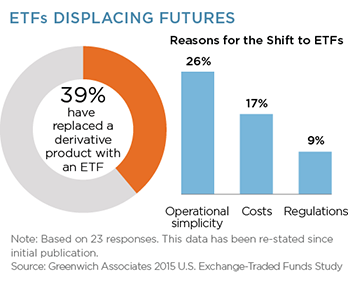 ETF Innovation: New Strategies and Approaches
Institutional reliance on ETFs will likely expand as new and novel fund strategies gain traction in the market. Thirty-one percent of the institutions—including 46% of the asset managers—are using smart-beta ETFs. At present, the most popular of these strategies are equal-weighted ETFs, multi-factor ETFs and minimum-volatility ETFs. These and other relatively new strategies could soon experience strong growth, given the striking number of institutions that say they are considering adding them to their portfolios or expanding existing ETF allocations beyond cap-weighted methodologies.
Forty-eight percent of the institutions in the study say they are considering investments in multi-factor ETFs. Another 48% are weighing new investments in equal-weighted ETFs, and 42% are considering minimum volatility ETFs. Demand for new investments in many of these products will be strongest among insurance companies. Fifty-nine percent of institutions currently investing in these strategies plan to increase allocations in the coming year. Among those expecting growth, 36% plan to boost allocations by more than 10%.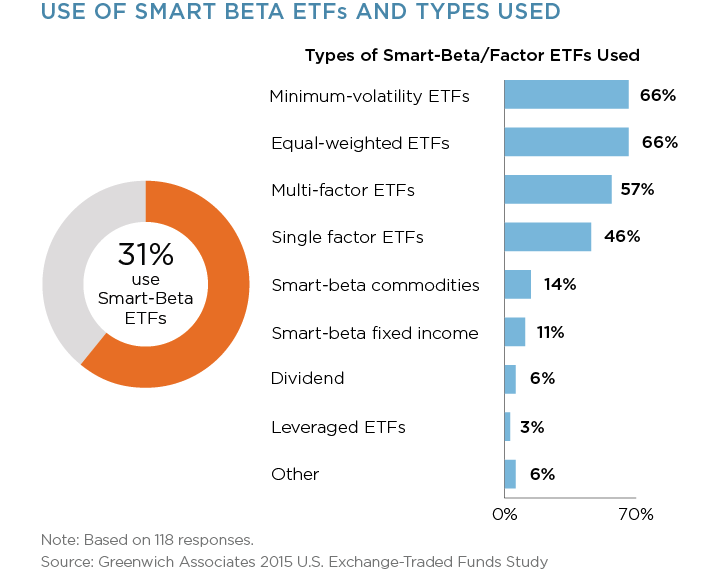 Already, 32% of the institutions in the study employ currency-hedged ETFs, with usage driven mainly by asset managers and insurance companies. Institutions are turning to currency-hedged ETFs instead of separate currency overlay portfolios. Investors in the study say they are using these strategies to hedge both short-term and long-term exposures, and as a means of generating short-term tactical returns. Greenwich Associates expects that share to increase if global currency trends remain volatile.
Insurance Companies Embrace ETFs
Over the past 24 months, a relatively new source of demand has been driving ETF growth among institutions. The study results show a dramatic spike in the share of U.S. insurance companies using ETFs to invest surplus and reserve assets. Between 2013 and 2014, the share of insurers in the study using ETFs to invest surplus assets nearly doubled, from close to 30% to almost 60%. Usage remained stable at that level over the past 12 months.
Meanwhile, the share of U.S. insurance companies using ETFs to invest reserve assets climbed from just 6% in 2013 to more than a quarter in 2014. In 2015, that share jumped to 71%. "When thinking about ETF use in institutional channels, it's easy to focus on the asset managers, institutional funds and RIAs that employ ETFs to meet the needs of clients and in their own portfolios," says Andrew McCollum. "But the data shows that growing numbers of insurance companies are adopting ETFs, not only for asset management, annuities and cash investing, but also for critical reserve and surplus asset investments."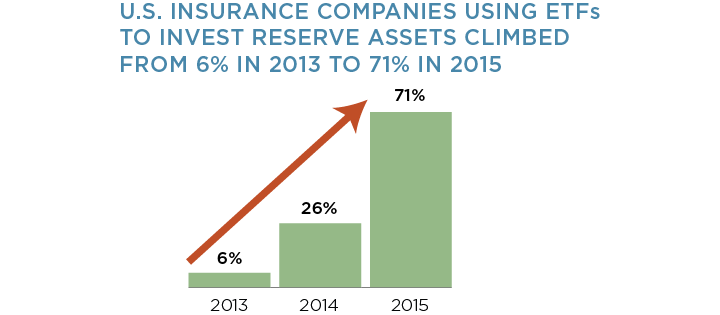 The data suggests that insurance companies have been pleased with the results so far. Among current ETF users in this segment, 71% expect to increase ETF allocations in the year ahead. That finding makes insurance companies the most bullish segment within the institutional channel when it comes to future demand for ETFs.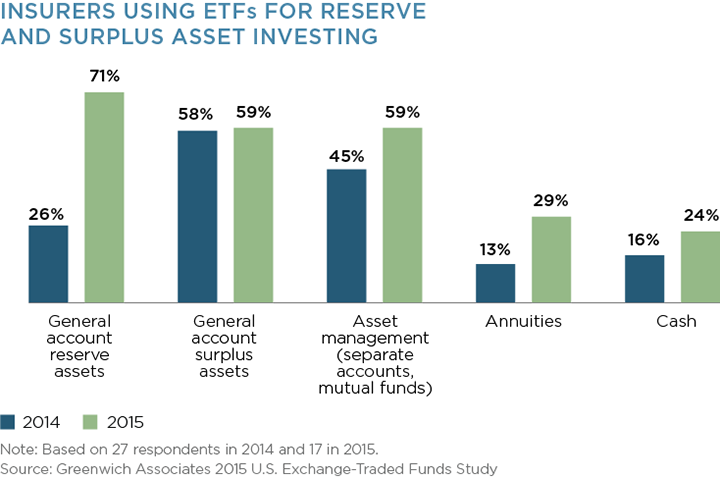 Institutions Become More Discerning ETF Customers
As ETFs take on an increasingly important role in institutional portfolios, institutions are becoming more careful and discerning in their selections of ETFs and ETF providers. Every year, Greenwich Associates presents institutions participating in our ETF study with a list of characteristics and asks them to identify the factors they view as important criteria when selecting an individual ETF or ETF provider.
From 2014 to 2015, the number of citations increased for almost every factor in the list. In other words, individual institutions identified more factors as important selection criteria in 2015 than they did the year before. This suggests two things: First, many institutions now have several years of ETF investing experience. During that time, they have gained familiarity with the funds and learned more about what's important to look for in a product or provider. Second, because institutions are increasingly employing ETFs in functions that are essential to their investment strategies, they have tightened up due diligence surrounding the selection process.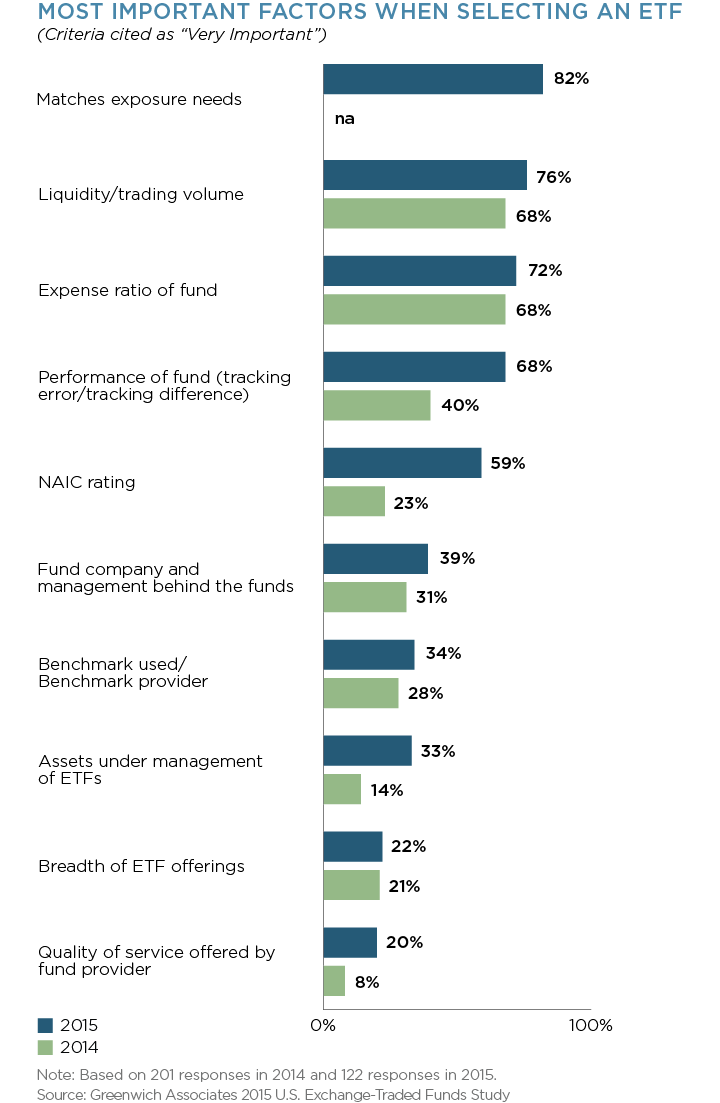 The study results reveal another important shift in the selection factors institutions consider when picking a fund or a provider. In past years, liquidity and expense ratio were the primary criteria, with other characteristics receiving significantly fewer mentions. In 2015, however, 82% cited "Does the ETF match my exposure needs?" as an important selection criterion. "The fact that alignment with general exposure needs has become the No. 1 factor considered by institutions when picking an ETF provides direct evidence that institutions are hyper-focused on whether or not an ETF can deliver asset-class exposure with the precision needed to implement their investment views," says Andrew McCollum.
Of course, institutions are still paying close attention to other factors including liquidity/trading volume (cited as an important selection factor by 76% of institutions), expense ratio (72%) and tracking error (68%).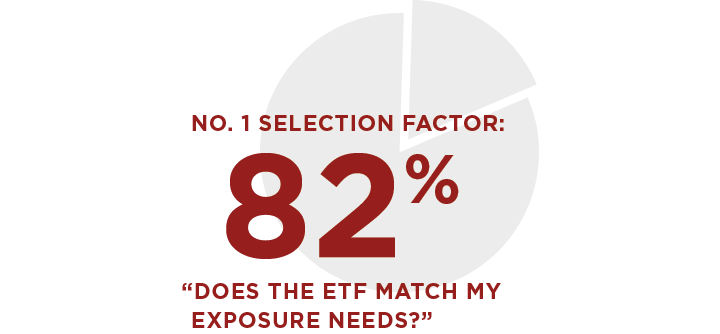 BlackRock's iShares Seen as Best-in-Class Provider
Based on these criteria, iShares, the exchange-traded fund division of BlackRock, ranks as institutions' preferred provider of ETFs. Ninety-four percent of institutional ETF users in the study use iShares as a provider, followed by Vanguard at 73% and State Street/SPDRs at 64%. While Vanguard is cited for providing the lowest management fees, the institutions name iShares as best in class in ETF liquidity, range of product offerings, index tracking, innovation, product transparency, and service platform.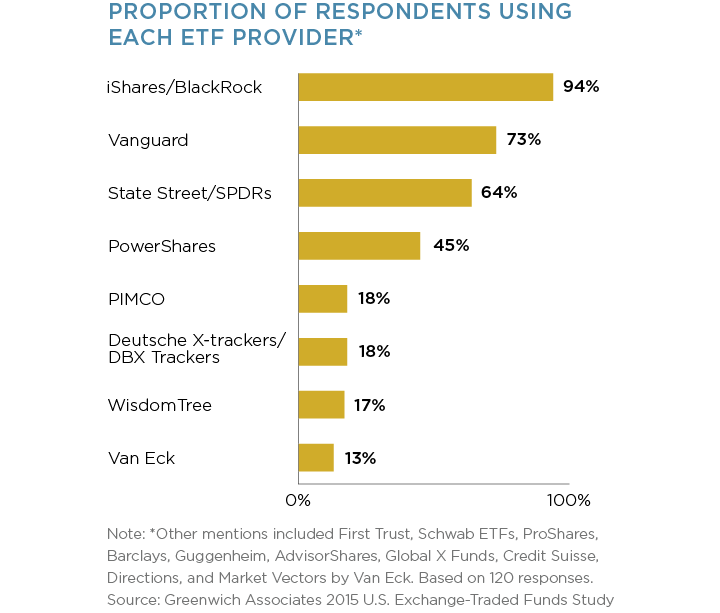 Conclusion
Versatility is driving the growth of ETFs in institutional portfolios.
Greenwich Associates research from the past five years demonstrates a clear pattern: Institutions start experimenting with ETFs for a single task and then gradually expand their use of the funds throughout their portfolios. Initially using ETFs for simple, tactical tasks, institutions discover that ETFs also provide an effective means of obtaining long-term exposures and over time, they integrate the funds more deeply into their investment strategies. Institutions that start using ETFs in equity portfolios find that the funds are equally as useful in fixed income and other asset classes.
As they become more familiar with ETFs, institutions find new ways of using them to meet specific needs within their portfolios and their businesses. Those that rely on futures and other products for beta exposures learn that ETFs provide a simple and cost-effective alternative and start replacing existing derivatives positions. Asset managers working to meet investor demand for multi-asset strategies find that ETFs provide a relatively seamless means of obtaining required exposures across markets.
The sheer diversity of these applications makes it apparent that flexibility and versatility are the true drivers of ETF growth in the institutional channel and should ensure that the growth trend continues for years to come.

Methodology
Greenwich Associates interviewed a total of 183 US-based institutional investors, 122 of which were exchange-traded fund users and 61 were non-users, in an effort to track and uncover usage trends. The respondent base included 51 institutional funds (corporate pensions, public pensions, foundations and endowments). 41 asset managers (firms managing assets to specific investment strategies/guidelines), 24 insurance companies, 47 RIAs and 20 investment consultants.