Executive Summary

Change is inevitable for investment managers, and it comes in varying guises, including mergers and acquisitions, leadership changes, the departure of prominent fund managers, major cost reduction programs, and fundamentally new regulatory requirements. These changes require managers to take action, step forward and do something different than "business as usual."
Given the level of competition and choice within the investment management industry, an inability to handle change, and handle it well, can be a major detractor, with negative implications ranging from a loss of clients, to investment strategy downgrades and an inability to engage consultants, to an all-consuming internal focus that damages the fabric and culture of the firm. Managers who don't rebound from change can find themselves at a considerable competitive disadvantage.
Given the level of competition and choice within the investment management industry, an inability to handle change, and handle it well, can be a major detractor, with negative implications ranging from a loss of clients, to investment strategy downgrades and an inability to engage consultants, to an all-consuming internal focus that damages the fabric and culture of the firm. Managers who don't rebound from change can find themselves at a considerable competitive disadvantage.
Table of Contents

Introduction
Change is inevitable for investment managers, and it comes in varying guises, including mergers and acquisitions, leadership changes, the departure of prominent fund managers, major cost reduction programs, and fundamentally new regulatory requirements. These changes require managers to take action, step forward and do something different than "business as usual."
Given the level of competition and choice within the investment management industry, an inability to handle change, and handle it well, can be a major detractor, with negative implications ranging from a loss of clients, to investment strategy downgrades and an inability to engage consultants, to an all-consuming internal focus that damages the fabric and culture of the firm. Managers who don't rebound from change can find themselves at a considerable competitive disadvantage.
On the flip side, if approached proactively and thoughtfully, change can be managed well and leave the firm in a stronger competitive position. To do this, managers need to have a set of guiding principles at hand to rebound from the change, rather than making it up on the fly or relying on a few talented people or a "change team" to pull the organization through.
Change Happens
There are few investment managers who have not encountered change over the past few years. From high-profile mergers and acquisitions, to succession and other higher profile staffing changes, to fundamentally new regulatory requirements, change happens and must be managed.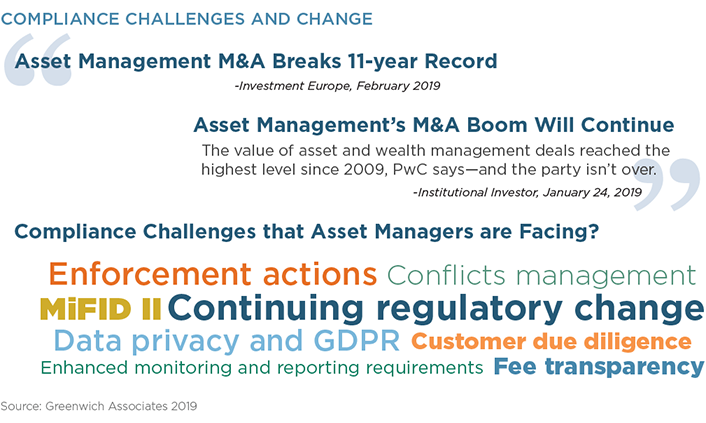 Given this continuous cycle of change, investment managers are well-advised to evaluate their own ability to rebound from change, including the tools and resources they have in place, and the steps that they are taking to continue to develop this capability.
Change Toolkit
An investment manager's key objectives during a time of change, above and beyond regulatory and other statutory requirements, are to retain clients, maintain strong relationships with investment consultants and other third parties, continue to grow the business, and maintain (and even enhance) brand perceptions. With these goals in mind, there are a series of guiding principles and approaches which collectively form an effective toolkit.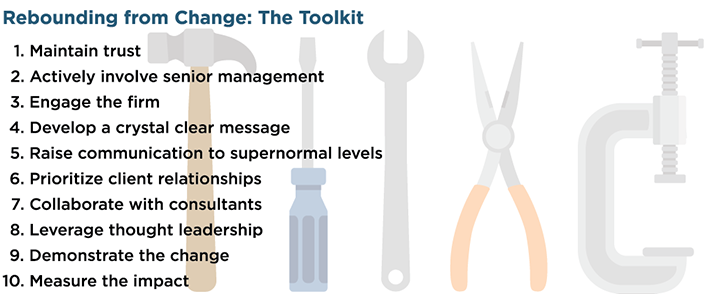 Culture and Mindset
Maintain trust – The most important variable at risk during a time of change is trust in the firm. Given that investors are less trusting and better informed today, trust can be lost quickly and is much harder to regain. As guiding principles, honesty and transparency are critical. Consistency of message is crucial, requiring effective external communication, as investors readily share information with peers, and inconsistencies will come to light. Greenwich Associates data shows a strong correlation between trust and perceptions of brand, highlighting the need to manage this very carefully during a period of change.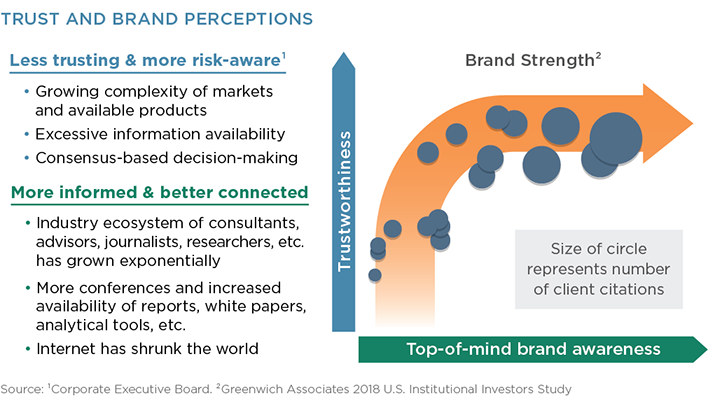 Actively involve senior management – Senior management needs to be actively involved internally and externally, strategically and tactically, as part of the change response. While management's involvement in a firm's strategic response to change is well-versed, tactical actions are less so. The tactical actions that senior managers take can often have an oversized impact on client, consultant and employee perceptions, and can address both stakeholders' "head" (rational) and "heart" (emotional) considerations during a time of change.
Senior Management Tactical Actions
A large institutional client experiencing change at their investment manager was concerned when a basic operational error occurred. To demonstrate the firm's commitment, the COO phoned the client to reassure them that this was an isolated issue, and explained the safeguards that were in place to prevent a similar occurrence. In response to the COO's personal intervention, the institutional investor noted afterwards that, "The investment manager took the issue very seriously, which actually gave us even more comfort regarding their focus and commitment."
Engage the firm – Many changes will involve multiple functions within an investment manager, and consistency when communicating to external stakeholders is an imperative. As with the delivery of the day-to-day client experience, internal functions are most effective when collaborating, as opposed to acting in separate silos. "Engaging the firm" requires that employees across functions understand the change, how it impacts clients, and the longer term impact and benefits for clients and other stakeholders. While there are compliance and regulatory-related changes where broader communication may be prohibited for a period of time, most change-related communication is at the manager's discretion, and managers sometimes make the mistake of limiting communication internally. Engaging the firm to respond to change, rather than engaging one or two functions, typically results in a more holistic approach. 
Client-led and Investment-led Cultures
Investment managers' cultures fall along a continuum from "investment-led" to "client-led" organizations, with most firms somewhere in between. Firms that are more client-led are accustomed to actively sharing information related to client needs, expectations and perceptions across internal functions. When change occurs, these practices can be leveraged. Investment-led organizations, less accustomed to sharing this type of information across functions, must ensure that they have the requisite processes in place to engage the firm, or they will face an even greater task to rebound from change.

Planning and Engagement
Develop a crystal clear message – Managers must get into their clients' shoes, understand how the change is impacting them, and actively consider what the change feels like from a client perspective (investment managers often focus on the "head" with scant regard for the "heart"). The communication message should be crystal clear, forward-looking and as succinct as possible, addressing the change head-on and outlining the ultimate benefits to clients. Managers may want to frame the communication in the context of the firm's value proposition, where appropriate.
Communication of Change in the Context of the Firm's Value Proposition
Managers who have distinctive and well-articulated value propositions are better prepared for impending change. Investment managers who can answer the question, "What are the key differentiating DNA elements of our value position?" and have effectively communicated this differentiation externally are in a position to communicate change in the context of what they stand for and what has and has not changed. Managers with "me too" offerings and little competitive differentiation are not able to leverage this contextual strength and often have to work even harder to rebound from change.
Raise communication to supernormal levels – A high level of communication, both internally and externally, is critical to manage change. Communication is a key metric to be monitored, as there is a tendency to underestimate the level of communication required and to assume that clients and key stakeholders have "got it" following a round or two of communication. Employees' general preference to get back to business as usual and to focus on positive rather than negative client feedback can also limit communication levels. In addition to the focus on the level of communication, the use of multiple communication channels may be effective.
Use of Multiple Communication Channels
With a clear and consistent message, multiple communication channels may be used, taking into account investors' varying preferences. These channel preferences may vary by country and type of investor, for example, in the use of manager websites, as illustrated in the following graphic.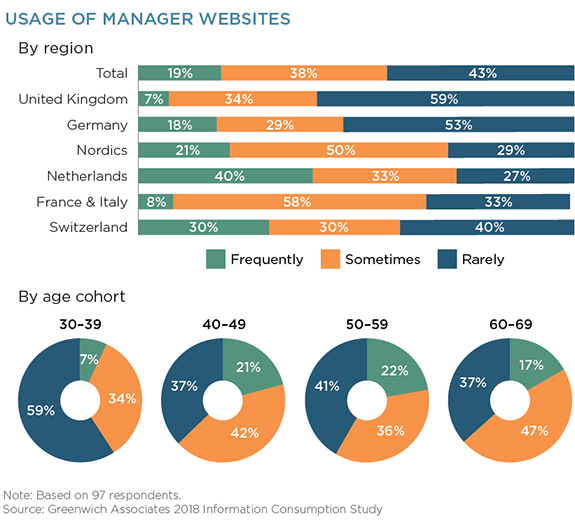 Prioritize client relationships – Depending on the specific change, speed may be of the essence. Firms will, of course, prioritize clients and relationships that will be most significantly impacted by the change, as well as top-tier clients. Having a strong internal infrastructure and ability to communicate with defined groups of clients quickly can be crucial. In some situations, smaller investors may find the change more unsettling. For these investors, the relationship with the investment manager may comprise a larger part of their portfolio, and they may have had less experience dealing with change at investment management firms. Internal allocation of resources to manage the change should take these factors into account.
Managing Change in the Context of the Client Journey
Many managers have invested in client experience improvements, and an increasing number of managers now have a client journey map in place, which also allows these managers to leverage day-to-day practices and internal networks during a time of change. Within a typical client journey map, many types of change fall within the "concerned" bucket, and often represent a more complex version of what managers already deal with on a day-to-day basis. Managers with highly tuned processes for dealing with a fund manager change, for example, are often well attuned to handle even more complex circumstances.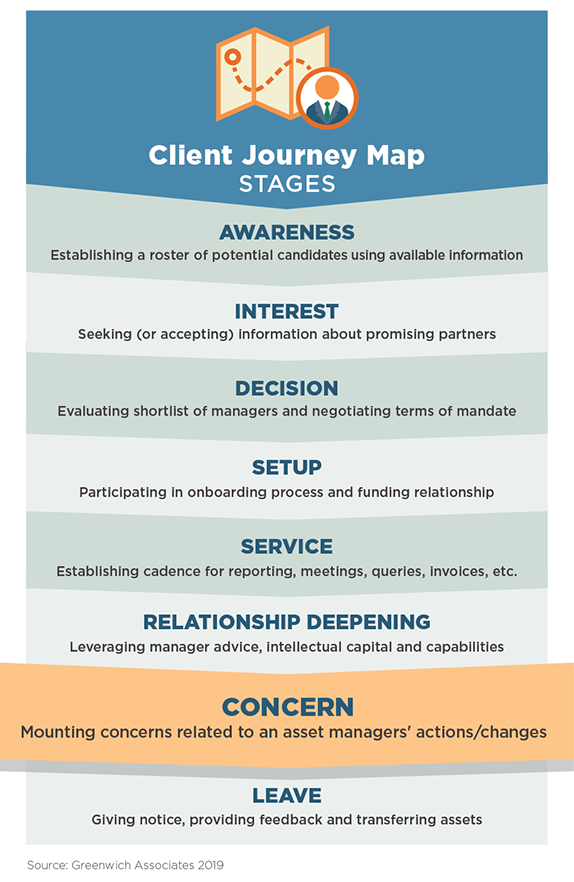 Collaborate with Consultants – On a day-to-day basis, investment managers work with investment consultants on behalf of their joint clients. During a time of change, consultants should be the first port of call—before client communication—for any news about the firm, to avoid any consultant surprises. In many cases, the consultants will want to contact clients to deliver the news, and this requires that managers "train" and equip consultants, so that they can effectively help to manage the message. For consultants with no joint client relationships, engagement and clear communication from the manager helps to ensure that the consultant will consider the firm for future business.
Avoiding Consultant Surprises
"It's a case of making sure we are up to speed with what's happening. It still annoys me that we sometimes go into meetings and the client's been told something we have not been told."
~ Investment consultant
Leverage Thought Leadership – Investors find value in thought leadership from investment managers on a day-to-day basis, with a high percentage indicating it adds value and increases the likelihood that they will retain a manager.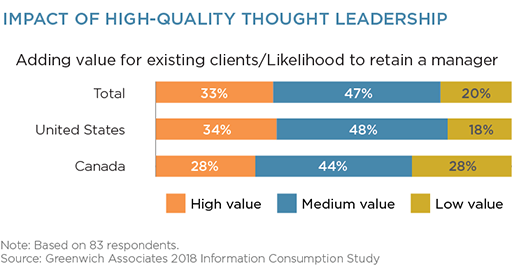 During a time of change, managers can use thought leadership to remain present and articulate the firm's distinctiveness. Where appropriate, thought leadership can be used to showcase the firm's best ideas and highlight its value proposition, particularly if the change calls this into question. For example, thought leadership to reemphasize elements of the firm's unique investment philosophy and process might be additive at a time when a perceived "star" fund manager leaves the firm.

Demonstrating and Monitoring
Demonstrate the change – Managers can take the opportunity to actively demonstrate that the change is being managed effectively, both internally and externally. Specific examples and stories are most powerful and supportive here, to reinforce positive perceptions in the minds of clients and key stakeholders. Managers should, however, guard against declaring victory too soon, as this can lead to a lack of confidence and trust if additional issues arise following the "victory" communication. This ensures that the firm fully institutionalizes and embeds the change.
Demonstrating Change During Mergers and Acquisitions
In the case of mergers and acquisitions, clients and consultants will look closely for benefits that accrue to them, rather than to the investment manager. A "larger investment manager with enhanced capabilities" is not sufficient. Are there economies of scale that will result in fee reductions for clients? Will the investment process be enhanced with access to new tools or data sets that lead to improved investment performance and/or a reduction in risk? Will client reporting and transparency be enhanced so that investors have better oversight of their investments? These are the types of tangible benefits that investment managers can demonstrate during a merger or acquisition.
Measure the impact – Measuring clients' and consultants' perceptions allows the firm to understand how its communications are being received and, crucially, ensures that the firm remains externally focused. Actively sharing external perceptions throughout the organization provides continued learning and opportunities for improvement. Gauging external perspectives on an ongoing basis, after the immediate change has passed, provides the firm with a benchmark, which can also be helpful when the next round of change comes about.
Ensuring External Focus
One of the biggest risks for an investment manager during a time of change is that they become internally focused. The consequences of this may be even more damaging than the impact of the immediate change at hand. As noted in this toolkit, there is significant work to be done, and a consequence can be a loss of organizational focus on clients and consultants. One way to counter this is to actively gather unadulterated client and consultant feedback, removing any potential employee interpretation of the messages. Some investment managers also use an external sounding board to provide external perspective and advice as they work through change.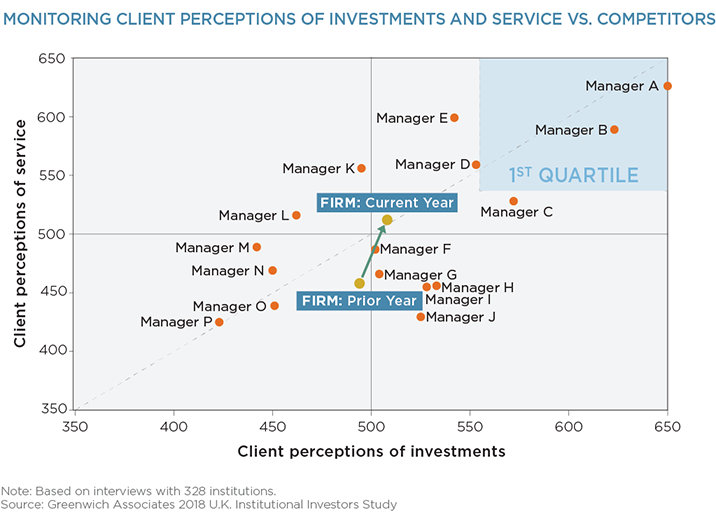 Depending on the type of change facing an investment manager, the timeframe to work through it will vary, and some of the guiding principles noted in this toolkit will be more important than others. For example, in the case of a merger, super-normal levels of communication are critical for a longer period of time, given the scale and complexity of the change. All of the guiding principles apply when change happens, but some will need to be stressed to a greater degree.
Conclusion
Rebounding from change is hard work and requires proactive, thoughtful and sustained effort. Firms that are not able to effectively rebound from change can find themselves at a considerable disadvantage, which may take months or even years to recover from. Conversely, investment managers who have a set of guiding principles in place before change happens, and who employ the principles when change inevitably does occur, can excel at rebounding from change and position their firm for continued success.
Consultant Mark Buckley is the author of this paper. Andrew McCollum, Davis Walmsley, Rodger Smith, Markus Ohlig, Taeko Sumiyoshi, Tomio Sumiyoshi, Mark Buckley, Sara Sikes, Parijat Banerjee, and Susan Gould advise our investment management clients globally.