In order to drive improvements to the client experience, a number of firms have hired a Chief Client Officer (also called Head of Client Experience). The purpose of this role is to "bring the client to life" within the organization and ensure there is a program of activity to implement desired changes and enhancements to the client experience. Key topics on the CCO agenda include:
Understanding What Investors Want – In order to craft the client experience the firm intends to deliver, managers must understand investors' expectations and preferences across a broad range of interactions including due diligence, formal investment review meetings, onboarding, client reporting, etc. Facts rather than anecdotal evidence are important, and investor preferences change over time. An example of a current hot topic is how investors prefer to "consume information," including their preferred content, presentation format and delivery channel.
Ensuring Employees Understand that the Client Experience is Everyone's Responsibility – Delivering an excellent client experience requires that individuals from functions around the organization (sales, service, consultant relations, marketing, products, investment, legal, operations, compliance, risk, etc.) understand that they have a role to play, know what that role is, and have a shared understanding of the desired client outcome (what "good" looks like). A classic example is client onboarding, where there is a need to ensure alignment across the multiple functions that will be involved. This same discipline can be applied to all aspects of the client experience.
Molding and Measuring Prospects' Perceptions – Prospects form impressions of managers before they actually meet them. These perceptions impact investors' decisions to engage with managers and can affect manager selection decisions. CEB research notes that the average B2B buyer has made 57% of their purchase decision before they meet a sales person. Molding and measuring prospect perceptions, as part of the broader client experience, is a must.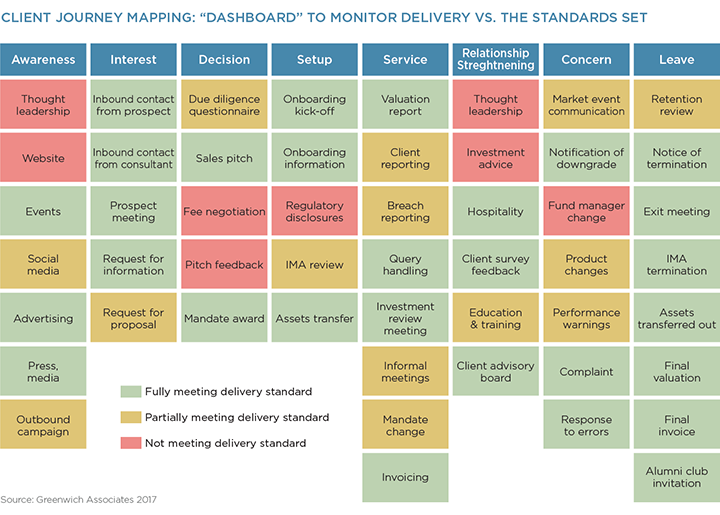 Using Client Journey Mapping – This is a fundamental tool that is used in many industries. As our previous work on this topic indicates, best-in-class managers make sure that "everything works," that there is significant focus on the "moments of truth" clients view as disproportionately important, and that "service is differentiated" to provide demonstrative evidence of the firm's value proposition. Client journey mapping is a key tool in a client experience improvement program and helps to break down internal silos and enable cross-functional collaboration.
Rigorously Monitoring the Client Experience – A dashboard can be used to assess clients' and prospects' perceptions of the firm. Managers gather investor feedback through annual surveys, individual touchpoint surveys (e.g., after a sales pitch, following client onboarding, or after an investor uses the website), and by capturing day-to-day investor feedback in the CRM system. The dashboard enables managers to monitor delivery versus the standards set—to ensure a high level of internal visibility and as an input to the prioritization of client experience improvements.
Devoting Appropriate Resources to Client Experience Improvements – As part of the annual planning process, some firms explicitly consider how much of their budgets are being allocated to client experience improvements. While there will always be regulatory and other "must do's," funding planned improvements to the client experience must be high on the list.
Continually Improving the Client Experience – Best-in-class managers create a culture focused on constantly identifying and improving elements of the client experience ("What's next!"), so it becomes part of employees' DNA, part of the fabric of the firm's culture.
An article from the Harvard Business Review reiterates many of these points and shows the value created by focusing holistically on the client's end-to-end journey. As the authors note, "…we've found that organizations able to skillfully manage the entire experience reap enormous rewards: enhanced customer satisfaction, reduced churn, increased revenue, and greater employee satisfaction. They also discover more effective ways to collaborate across functions and levels, a process that delivers gains throughout the company."
Investment managers that excel at delivering the client experience can significantly enhance business results and gain competitive advantage—and Chief Client Officers can lead the way.