Table of Contents
For several years now, I have seen financial institutions invest heavily in enterprise feedback management (EFM) systems. These platforms (or portals) certainly make it easier to digitally survey customers using email or text after every transaction. But that doesn't paint the full picture. There is a downside.
Surveys! Surveys! Surveys!
This new found ability to easily and quickly survey customers for feedback can sometimes cause your organization to drown in data. Plus, too many surveys can actually work against you. If you have all this data, but no action is taken to change employee behavior across the organization, you have annoyed customers and disappointing ROI for your customer experience (CX) program.
The Disconnect
EFMs can play an important role in your overall program, but they are not intended to take the place of your whole CX strategy. They are simply software tools that cannot alone produce the ROI you expect from your efforts. While EFMs do a great job collecting the data, they do not provide you with the action items and workflows you need to drive real change within your organization.
The most effective CX programs include a combination of consulting, data collection and reporting. The right consultants will use their financial services and research expertise to design a survey with your corporate goals in mind. I like to use benchmark data as well to help you make sense of the feedback and to see where you rank compared to your peers. Consultants will also help you build a strategy to turn the feedback you receive into meaningful and actionable insights.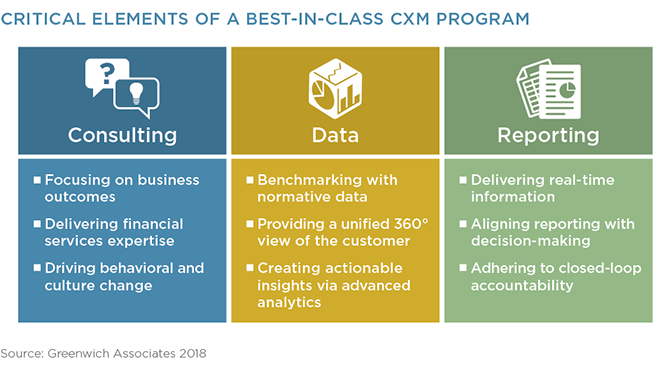 But having the data and the strategy is not enough if you don't communicate with the people who need it most. Reporting the feedback to the frontline quickly and with clear direction about what action needs to be taken (also known as "closing the loop") will go a long way in making sure your customers experience positive change as a result of their input.
I am not suggesting that you abandon your EFM. They are great for collecting data. What I am suggesting is that there are many more benefits to having an EFM when you partner with an industry leader who can integrate your EFM into a comprehensive CX strategy. Doing so will help ensure the success of your CX program.
Download my paper, Customer Experience Management, The EFM Hangover to learn why an EFM-only solution does not equal an effective CX strategy.