Larger institutions in Japan now execute only roughly 41% of trades as traditional single stock high-touch trades, well down from 48% in 2011. This reflects low touch single stock trades rising from 33% of trading volume to 36% and an expected 40% by 2017, but also somewhat unique to Japan the high proportion of business executed as portfolio trades which has climbed to 23% over the past three years driven by the high volume of business executed as portfolio trades by domestic Japanese institutions particularly trust banks with large passive portfolios.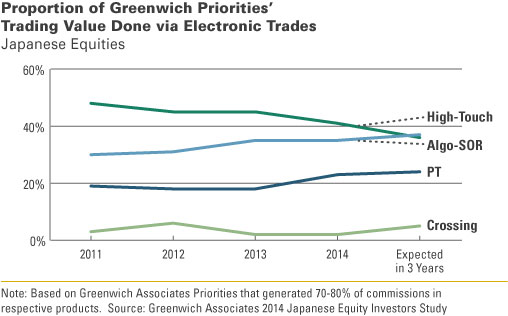 Study Highlights
•Japanese institutions have been particularly aggressive at driving down "headline" commission costs, not only adopting portfolio and electronic trading but executing a significant proportion of portfolio trades as risk trades with only a quarter of volume as "pure agency."
•Unlike Asia, the commission pool in Japanese equities has been on an upswing, increasing as much as 30% over the past two years and bringing improved liquidity to a large and fairly homogenous market.
•Roughly 60% of commission flows are allocated as compensation for research and advisory services and 20% of assets are invested in small/mid-cap shares, both lower than in Asia and arguably allowing for greater use of low/no-touch avenues of execution.
•Demand for capital (outside of risk portfolio trades) also is not a major constraint: while nearly 60% of larger accounts request capital, but for only 4% on average of trading volume.
Bottom Line
Japanese institutional investors have effectively availed themselves of low cost avenues of execution, but at the expense of less direct interaction with sales traders who can provide market color and insight.
Investors should consider what is the appropriate balance of low-touch and high-touch execution for both managing execution costs and maintaining access to essential broker information services.