U.S. banks are making a major push for the banking business of Europe's largest companies.
While the list of 2019 Greenwich Share Leaders℠ in European Large Corporate Banking is still dominated by the big European banks that have long controlled this business, U.S. rivals like Citi and J.P. Morgan are exploiting the struggles of some of the region's biggest banks and climbing up the rankings tables as they pick up relationships and market penetration.
"U.S. banks have traditionally been reluctant to tap into balance sheets and compete in Europe on the basis of their willingness to lend to large European corporates," says Greenwich Associates Managing Director Dr. Tobias Miarka. "But now they are being quite aggressive; they're taking advantage of their lower costs of capital to capture business."
Banks' Willingness to Lend and Product Innovation Are Key
At a time of economic uncertainty, market volatility and rapid technological change, two factors are playing an outsized role in companies' decisions about which banks to use: banks' willingness to lend, and innovation across banking products, processes and digital platforms. Lower funding costs give U.S. banks an advantage in both areas, enabling them to lend at more competitive rates and also afford to make big investments in product development and IT.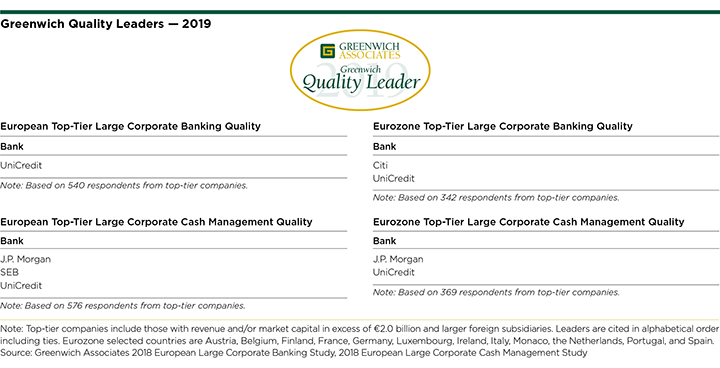 To be sure, U.S. banks are not the only ones delivering in these areas. On the contrary, HSBC, ranked No. 2 in market penetration across the European region, is also impressing corporate clients with its resource commitments to the business and innovation—as is market leader BNP Paribas. And Citi, at No. 4 in the rankings in market penetration, is the only U.S. bank to actually crack the elite ranks of the Greenwich Share Leaders this year, coming in just behind third-place finisher Deutsche Bank and tied statistically with UniCredit. These banks are the 2019 Greenwich Share Leaders in European Top-Tier Large Corporate Banking.

U.S. Banks See Opportunities in Some Regional Markets
However, there is no doubt that U.S. banks have momentum, and there are signs that the U.S. advance could be starting to extend beyond Europe's biggest companies. U.S. banks have never had much presence among European companies with less than €2 billion in annual revenues. In this group, regional European banks with extensive local networks and longstanding relationships with local companies dominate. These deep ties explain why regional banks like Germany's Bayerische Landesbank and Italy's Intesa Sanpaolo earn the title of 2019 Greenwich Quality Leader℠ in European Large Corporate Banking in their respective countries.
"However, the situation could be changing in certain markets like Germany, where U.S. companies are finding some attractive opportunities in this smaller segment and are now starting to pick spots to leverage their funding advantages to build relationships and win business," says Greenwich Associates consultant Melanie Casalis.
The accompanying tables present the complete list of 2019 Greenwich Share and Quality Leaders in European Large Corporate Banking and Large Corporate Cash Management, at the country level.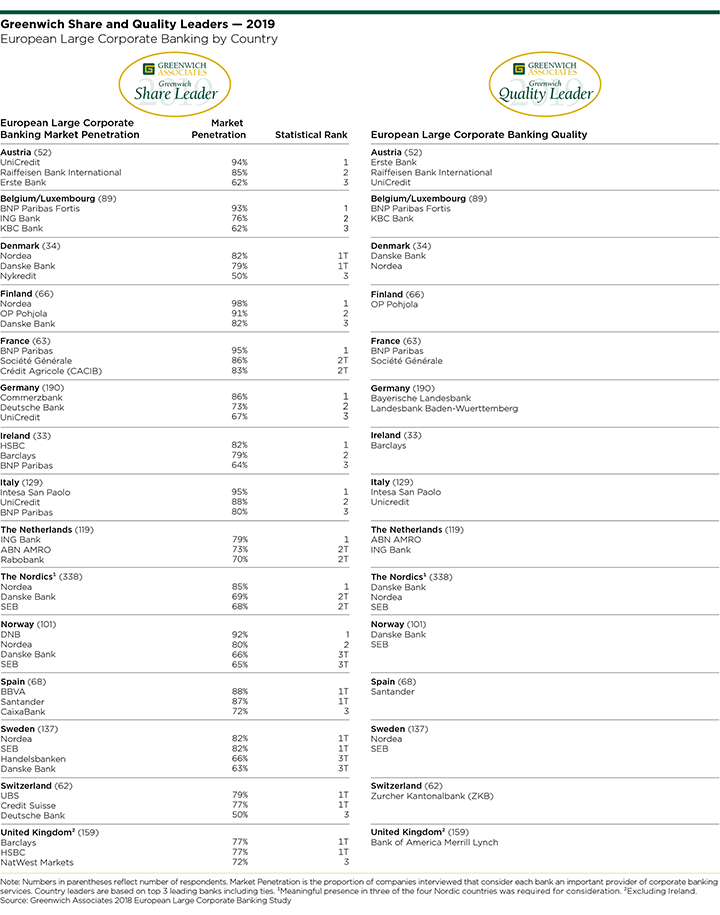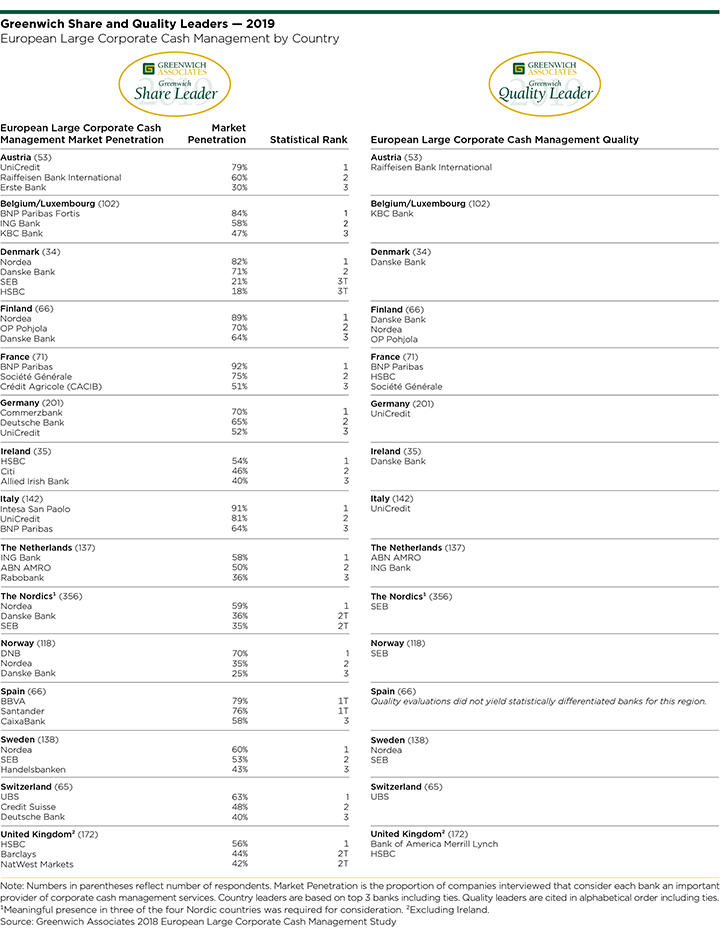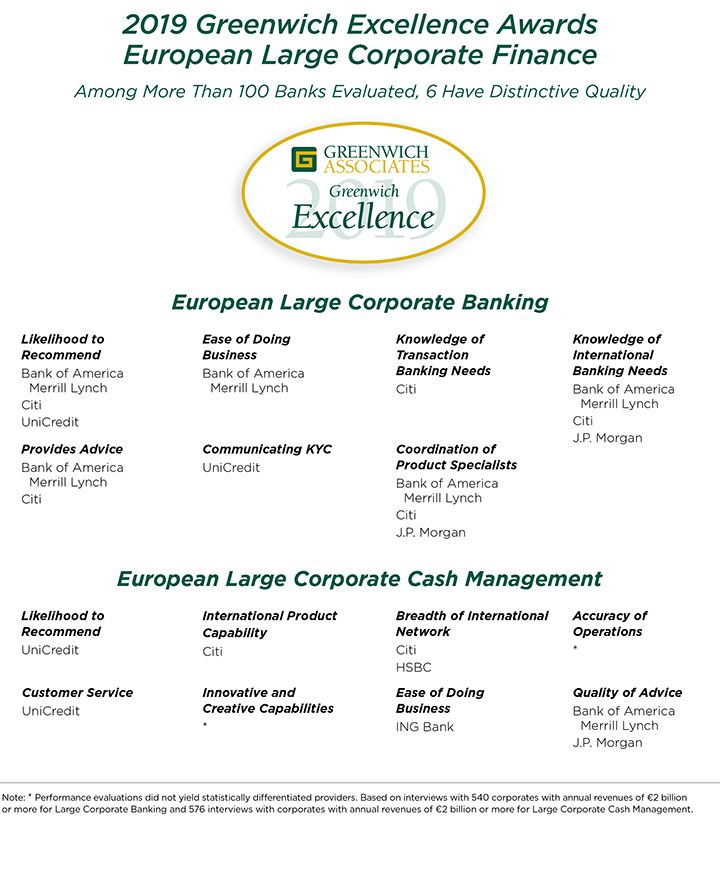 Consultants Dr. Tobias Miarka, Markus Ohlig and Melanie Casalis specialize in corporate and investment banking in Europe.
Methodology
Greenwich Associates conducted 2,345 interviews with financial officers (e.g., CFOs, finance directors and treasurers) at corporations and financial institutions with sales in excess of €500 million, including 540 with sales of at least €2 billion.
Interviews were conducted throughout Austria, Belgium, Denmark, Finland, France, Germany, Ireland, Italy, Luxembourg, the Netherlands, Norway, Portugal, Spain, Sweden, Switzerland, and the United Kingdom. Interviews took place from August to November 2018. Subjects covered included bank credit capabilities, domestic and cross-border advisory capabilities and quality of institution and relationship management. Cash management and trade finance capabilities were examined in separate interviews with corporate treasurers.