Table of Contents

RBC Capital Markets this year extends its wide lead over rivals in the Canadian equity brokerage market.
As part of its 2016 Canadian Equity Investors Study, Greenwich Associates interviewed 59 institutional portfolio managers and 59 institutional traders about the brokers they use for Canadian equities. Study participants were asked to rank order the brokers they use for research/advisory services, trade execution and other services, to estimate the share of their overall commission volume allocated to each firm, and to rate the quality of service they receive from each broker.
The study results show that RBC Capital Markets achieved an impressive 15.4% share in Canadian equity trading commissions. BMO Capital Markets was second with a trading share of 11.5%, followed by Scotiabank and TD Securities, which were statistically tied with shares of 10.0%–10.4%, and CIBC at 9.3%. These firms are the 2016 Greenwich Leaders in Canadian Equity Trading Share.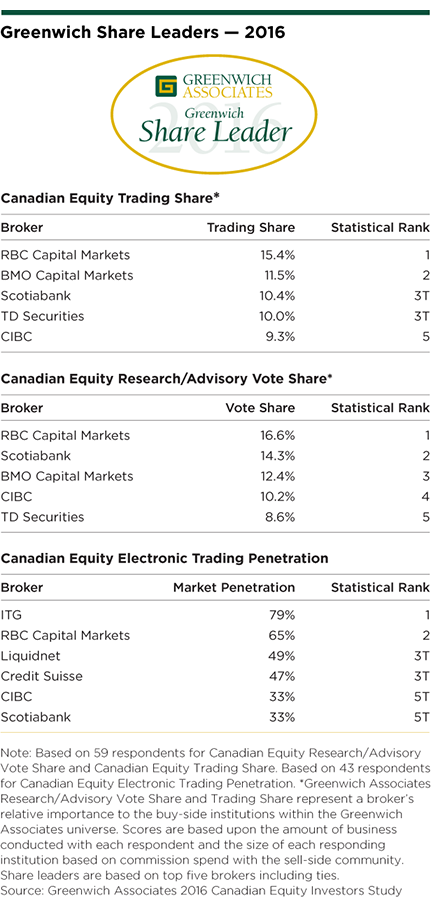 RBC Capital Markets' lead in Canadian equity trading is buttressed by its commanding position as the No. 1 provider of Canadian equity research/advisory services. Currently, buy-side trading desks allocate about 63% of their Canadian equity trade commission payments to compensate providers of research/advisory services, including analyst service, sales, corporate access, and other services.
RBC Capital Markets leads this business with 16.6% share of the institutional commission-weighted research/advisory vote. Scotiabank is next with a 14.3% share, followed by BMO Capital Markets at 12.4%, CIBC at 10.2% and TD Securities at 8.6%. These firms are the 2016 Greenwich Leaders in Canadian Equity Research/Advisory Vote Share.
RBC Capital Markets is also the only broker to win a designation as a Greenwich Quality Leader℠ in all three categories considered by Greenwich Associates.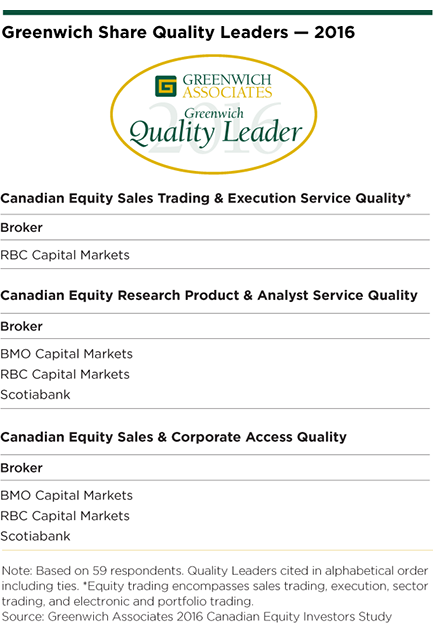 The firm is the sole 2016 Greenwich Quality Leader in Canadian Equity Sales Trading & Execution Service and joins BMO Capital Markets and Scotiabank as Quality Leaders in Canadian Equity Research Product & Analyst Service and in Canadian Equity Sales & Corporate Access.
"Within an essentially flat pool of institutional equity commissions into Q1 2016, the Big Five Canadian brokers maintained their dominant market share last year by capturing an aggregate 57% of institutional Canadian equity trading volume," says Greenwich Associates consultant Jay Bennett.
Electronic Trading
Although electronic trading in Canadian equities does not have the same influence on trading flows that it does in U.S. equities (e-trading accounts for about 15–16% of the overall annual institutional commission pool), buy-side traders in Canada know that "low-touch" execution will become an increasingly important driver of trading volumes and commissions.
ITG defended its position in Canadian equity electronic trading, with 79% of institutions using the firm for electronic execution. Second is RBC Capital Markets with a market penetration score of 65%, followed by Liquidnet, Credit Suisse, CIBC, and Scotiabank, which are statistically tied with market penetration scores between 33% and 49%. These firms are the 2016 Greenwich Share Leaders℠ in Equity Electronic Trading Penetration.
Consultants Jay Bennett and Peter Kane advise on the institutional equity markets globally.
Methodology
Between December 2015 and February 2016, Greenwich Associates interviewed 59 Canadian generalist equity portfolio managers and 59 Canadian equity traders at Canadian and U.S. buy-side institutions. The study participants were asked to evaluate the sales, research and trading services they receive from their equity brokers and to report on important market practices and trends.