Table of Contents
RBC again leads the competition for the Greenwich Associates 2018 Share and Quality Leaders in Canadian Equities, topping all rivals by a solid margin in both trading share and research/advisory vote share.
Greenwich Share Leaders
"The 'Big Five' Canadian brokers have consolidated both their earned research/advisory vote and their realized trading commission share in 2018, with RBC leading the pack by virtue of superior content combined with high-touch and low-touch trading offerings," says Greenwich Associates Managing Director Jay Bennett.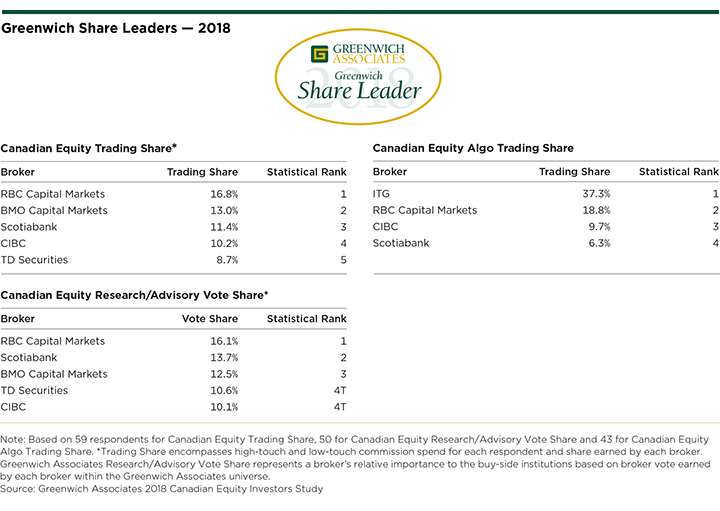 In trading, BMO Capital Markets boosted its sales trading and liquidity provision to retain its No. 2 position overall, followed by Scotiabank, CIBC and then TD Securities. On the list of Greenwich Share Leaders℠ in Canadian Equity Research/Advisory Vote Share, Scotiabank continued to boost its client offerings and now ranks second over BMO Capital Markets, with TD Securities and CIBC rounding out the group.
In the growing electronic trading space, ITG achieved twice the share of the second place finisher RBC Capital Markets, with CIBC placing third and Scotiabank fourth, in Canadian Equity Algo Trading Share.
Greenwich Quality Leaders
As part of its 2018 Canadian Equity Investors Study, Greenwich Associates interviewed 50 institutional portfolio managers and 59 institutional traders about the brokers they use for Canadian equities. Study participants were asked to rank order the brokers they use for research content and advisory services, agency and block trading execution, and electronic trading. They were also asked to estimate the share of their overall value or commission volume allocated to each firm, and to rate the quality of service they receive from each broker.
BMO Capital Markets and RBC Capital Markets are the 2018 Greenwich Quality Leaders℠ in Canadian Equity Sales Trading & Execution Service. In Canadian Equity Research Product & Analyst Service, the 2018 Greenwich Quality Leaders are BMO Capital Markets, RBC Capital Markets and Scotiabank. In Canadian Equity Electronic Trading the 2018 Quality Leader is ITG.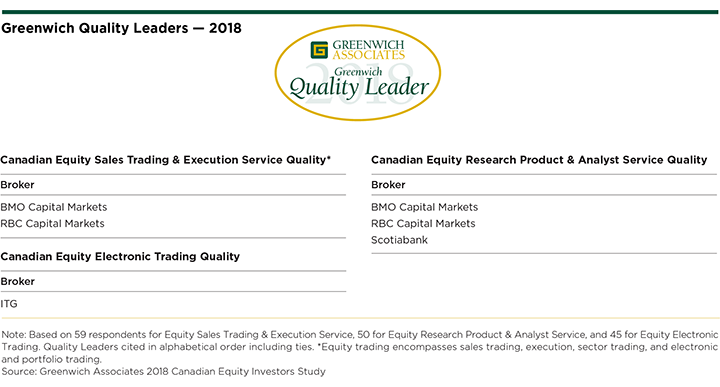 Pressure on Commissions
The pool of total cash equity commissions available to brokers on trades of Canadian equities within the Greenwich Associates universe of Canadian and some larger U.S. accounts dipped 4% last year to an estimated $650 million, with buy-side traders forecasting a slight recovery for the balance of 2018.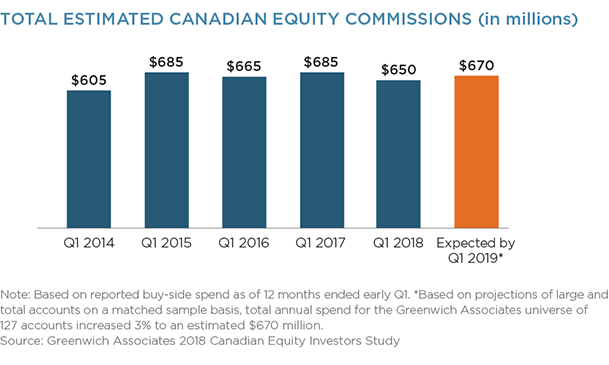 "The ongoing shift into lower-cost electronic trading channels, more passive equity allocations that lessen trading volumes, and the continued shift of Canadian pension allocations away from domestic Canadian equities all put pressure on the commission pool," says Jay Bennett.
Consultants Jay Bennett and Peter Kane advise on the institutional equity markets globally.
Methodology
Between December 2017 and February 2018, Greenwich Associates interviewed 50 Canadian generalist equity portfolio managers and 59 Canadian equity traders at Canadian and U.S. buy-side institutions. The study participants were asked to evaluate the sales, research and trading services they receive from their equity brokers and to report on important market practices and trends.