Executive Summary

Regulators are stepping in to tame the initial coin offering (ICO) frenzy and ensure investors are protected. With most ICOs being deemed securities and not utility tokens, ICOs will have to comply with U.S. securities regulations. This Greenwich Associates research discusses
what that might look like and what it means for equity issuance in the broader market.

Regulators are stepping in to tame the initial coin offering (ICO) frenzy and ensure investors are protected. With most ICOs being deemed securities and not utility tokens, ICOs will have to comply with U.S. securities regulations. This Greenwich Associates research discusses what that might look like and what it means for equity issuance in the broader market.
It can hardly escape anyone's attention that 2017 was a bonanza year for cryptocurrencies, with the overall market capitalization of the asset class soaring over 4000%.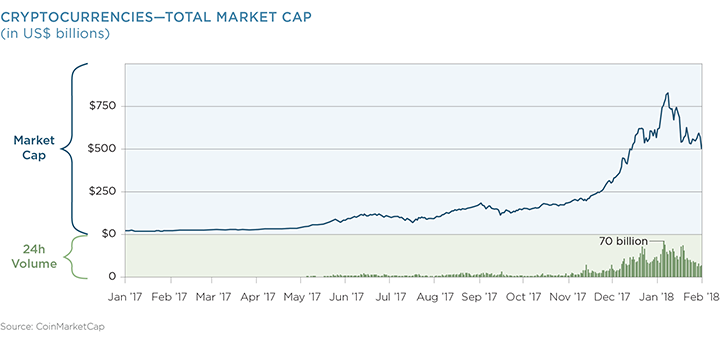 U.S. regulators have a keen eye on the expanding cryptocurrency market. In fact, the SEC Commissioner Jay Clayton and CFTC Chairman Christopher Giancarlo expressed their concerns in a recent Op-Ed¹ in the Wall Street Journal. In it, they contend that many companies launching ICOs were, in fact, selling securities and bypassing federal regulations designed to protect investors.
With investor protection being a key pillar of the SEC's mission, they have rightly stepped in to implement a regulatory framework around this new asset class. It is encouraging that they also intend to allow the underlying innovations to flourish while protecting fair and sound markets.
Institutional interest in the space has begun, as indicated by the newly launched bitcoin futures on CME and CBOE. This institutional interest is only likely to grow as the SEC lays out a regulatory framework, so it is important that investors understand the developments occurring in the space and the potential regulatory path forward.
Utility Tokens in the Crosshairs
The explosion of ICOs in 2017 occurred under an interpretation of the 1946 Howey Test, claiming that investors were buying tokens because of their utility value, and not because they expected to profit. Just about all ICOs have been defined as "utility tokens" by their issuers, as discussed in previous Greenwich Associates research2.
The new SEC Chairman Jay Clayton is not buying this, however, stating, "Every ICO I've seen is a security," and that issuers should have complied with federal securities regulations. Reportedly, up to 80 technology companies that have issued ICOs have been subpoenaed3, and regulatory actions have begun4.
This isn't a bad thing. We should hope and expect our regulators will stamp out abusive practices and fraud. At the same time, regulators have acknowledged the innovative and disruptive nature of the underlying technology and have indicated they will take a balanced approach to regulation, enabling these innovations to evolve in a responsible way. Market professionals who wish to raise money to fund an enterprise leveraging blockchain technology can continue to do so, as long as they take appropriate steps to ensure compliance with federal securities laws.

We are already seeing the impact of the SEC's toughened stance, with new ICOs either avoiding U.S. citizens altogether or selling their tokens to accredited investors only. While there is a real risk that over-regulation of the space will drive innovation and capital formation to other jurisdictions, the flip side of the coin (or token), is that sensible regulation that protects investors and welcomes innovators will enable a thriving technology startup ecosystem.
But limiting the sale to accredited investors still may not be enough for the SEC. Going forward, therefore, we expect all new ICOs sold within the U.S. will likely fall under the U.S. regulatory umbrella. This represents much more than an evolution in the market for cryptoassets. This is the beginning of a fundamental shift in the market structure for equity issuance. Stock certificates are endangered—security tokens are the invasive species.
Security Token Offerings
The market is evolving fast and, at least in the U.S., companies are being pushed away from utility tokens toward "compliant ICOs." For ICOs to become compliant, they will either need to be registered with the SEC or qualify for an exemption.
Registration Under the Securities Act of 1933
All securities offerings that are sold to the public must be registered with the SEC. There are significant disclosure requirements associated with securities registration, including detailed information about the company and the securities being offered, and audited financial statements. An initial public offering (IPO) of equity securities is an expensive and time-consuming project. Underwriting fees will eat up 4–7% of the amount being raised, and additional costs can run well into seven figures, with the whole process taking two years or more. The costs of staying public are significant also, including compliance with regulations such as Sarbanes Oxley and major listing fees for national stock exchanges.
These costs and administrative burdens are the main factors leading many companies to seek an exemption to the Securities Act when raising money.
Exemptions
A company may take advantage of an exemption from registration but is still required to provide sufficient information to investors to avoid violating the antifraud provisions of the securities laws. The three main exemptions are:
Section 4(a)(2), or the Private Placement Exemption
To qualify for this type of exemption, the purchasers must be sophisticated investors and receive the same type of information provided in an offering prospectus. Venture capital is often raised through a 4(a)(2) offering. Resale of securities is restricted5. This results in significantly lower secondary market liquidity and, thus, Section 4(a)(2) is not a viable avenue for most security tokens.
This is the newly updated Regulation A that was implemented as part of the 2010 JOBS Act. Reg A+ offerings are intended to make access to capital possible for small and medium-sized companies. There are two tiers to Reg A+ with different restrictions, allowing companies to raise up to $20 million (Tier 1) or $50 million (Tier 2) in a 12-month period. (The $50mm cap for Tier 2 offerings is likely to be raised to $75mm pending congressional action.) A key advantage of Reg A+ is that selling securities to the general public is permissible and not limited to accredited investors.
Given that Reg A+ accommodates retail investment, it represents the best option for regulated ICOs wishing to sell to the general public.
Under Rule 504 of Reg D, a company is exempt from securities registration if they sell less than $5,000,000 of securities in any 12-month period. Under Rule 506 of Reg D, a company can raise an unlimited amount of money, as long as the securities are sold only to accredited investors. Securities sold under Reg D are "restricted securities," which, in the case of non-public equity, generally means that resale is restricted to private transactions or to qualified institutional buyers.
As Reg D allows firms to raise more than $50 million, it may be a good option for some more ambitious enterprises (quite a few ICOs were larger than this in 2017). But the restrictions on accredited investors and resale will limit their uptake as a regulated ICO alternative.
The Future of Equity Issuance
One lesson from the ICO boom is that there is significant retail demand for high-risk, early-stage technology ventures6. To date, over $12 billion in capital has been raised through ICOs, with $5.5bn in 2017 and over $6bn thus far in 20187. While this is still much smaller than the traditional IPO market, it does represent a viable alternative to venture capital for many startups.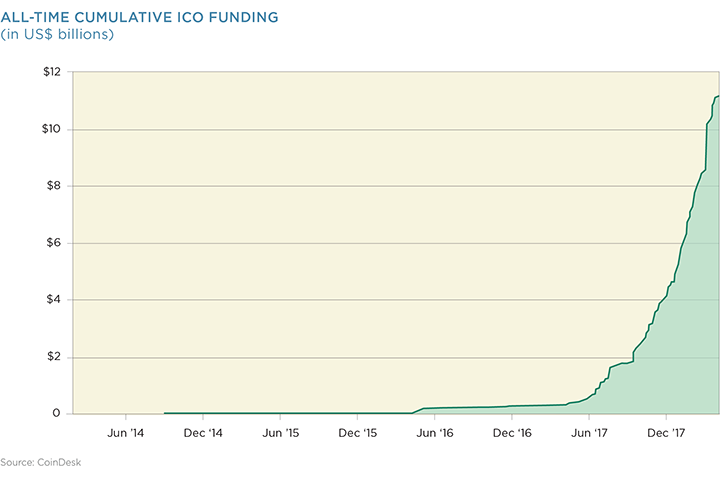 This exuberance, although sometimes irrational, is showing us a potential path forward for small business capital formation. A year ago, a startup looking to raise capital for a blockchain-based business would probably have chosen to launch an ICO. Today, only the most reckless organization would choose to raise funds from U.S. retail investors this way. Innovation coming from development teams and retail-investor interest will, henceforth, be channeled through regulated token offerings.
Blockchain-based securities will undoubtedly become a more common feature of U.S. securities markets over the coming years—and we are just at the beginning of this evolution. In 2016, Overstock.com was the first company to complete a public stock issuance on the blockchain. Now, their subsidiary tZero is currently completing a compliant ICO offering in which the tokens will be Reg D offerings sold to accredited investors only. Indeed, tZero's goal is to build a blockchain-based trading platform for compliant security tokens.
Final Thoughts
As regulation comes into the crypto space, it is causing a convergence among the industry's distributed ledger technology (DLT) initiatives. For example, the platform that tZero plans to build for the trading of cryptosecurities will likely share many similar characteristics with the Nasdaq Private Market, which already operates a blockchain platform called Linq for the secondary market trading of non-public securities.
A majority of blockchain experts in financial services have told us that DLT can reduce operational costs8, shorten settlement time, reduce risk, and create new revenue opportunities. However, the traditional financial services companies have mostly steered clear of the crypto space out of concern about the regulatory status of crypto enterprises. Now, with a regulatory construct and enhanced legitimacy emerging around security tokens, we will see greater institutional participation and increased innovation.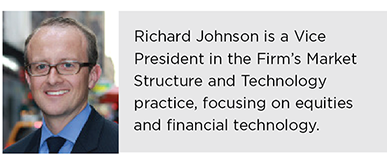 ¹https://www.wsj.com/articles/regulators-are-looking-at-cryptocurrency-1516836363
2https://www.greenwich.com/blog/icos-tokens-new-and-controversial-asset-cla
3https://www.cnbc.com/2018/03/02/sec-subpoenas-techcrunch-founders-cryptofund-amid-broader-investigation-into-digital-coins.html
4See for example: https://www.sec.gov/news/press-release/2017-219 | https://www.wsj.com/articles/sec-launches-cryptocurrency-probe-1519856266 | https://www.sec.gov/news/press-release/2018-70
5To Section 4(a)(1 1/2) or Rule 144
6https://www.greenwich.com/blog/cryptomania-how-changing-IPO-market-fueled-ICO
7Source: Coindesk, as of 4/20/2018
8https://www.greenwich.com/fixed-income-fx-cmds/blockchain-adoption-capital-market