Table of Contents

RBC Capital Markets fought off intense competition from rivals last year to maintain its position as the top dealer in Canadian fixed income.
RBC Capital Markets leads all dealers in terms of market share and heads up the list of 2016 Greenwich Share Leaders℠ across all Canadian fixed-income products. Over the past 12 months, the firm has defended this title in the face of mounting competition from BMO Capital Markets and TD Securities, which tie for second in market share, and with the statistically deadlocked trio of Scotiabank, National Bank Financial and Desjardins Securities rounding out the roster. These firms are the 2016 Greenwich Share Leaders in Overall Canadian Fixed Income.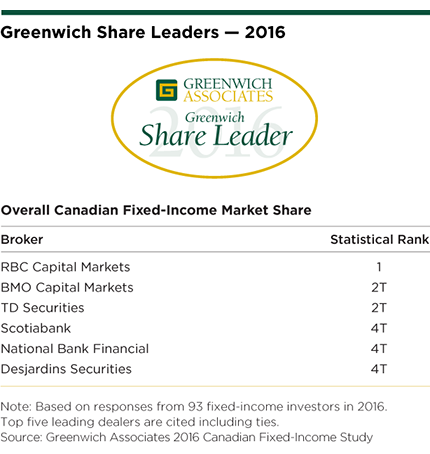 Alongside BMO Capital Markets, RBC Capital Markets is also a 2016 Greenwich Quality Leader℠. Greenwich Quality Leaders are firms that receive quality ratings from clients that top those awarded to rivals by a statistically significant margin.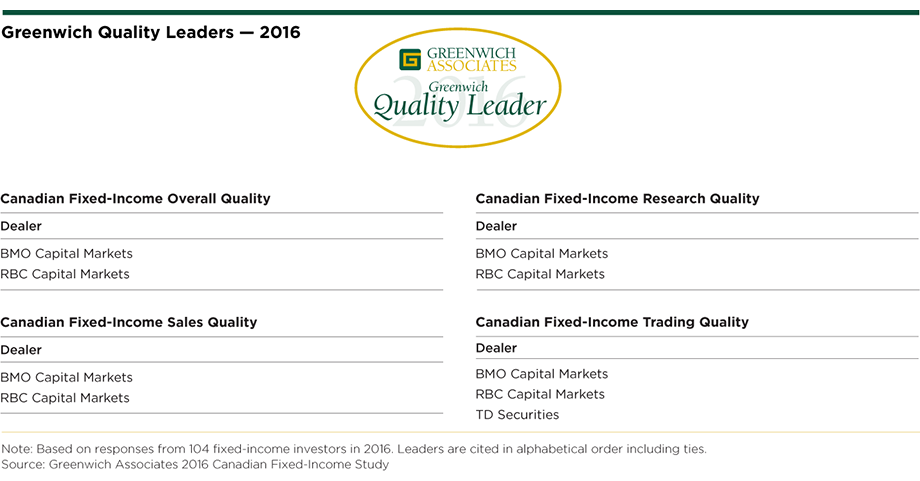 Greenwich Associates asked over 100 major Canadian institutional investors participating in its 2016 Canadian Fixed-Income Investors Study to name the dealers they used in a range of fixed-income products, to estimate the amount of trading business allocated to each dealer and to rate the quality of these dealers in a series of product and service categories. RBC and BMO claim the honors of 2016 Greenwich Quality Leader in Overall Fixed Income, Sales and Research. And in Fixed-Income Trading, RBC and BMO share the title with TD Securities.
"Both BMO Capital Markets and TD Securities are upping their games, but for the past year RBC Capital Markets has met the challenge by maintaining its already industry-leading quality levels and defending its sizable lead in market share and share of client wallet," says Greenwich Associates consultant Peter Kane.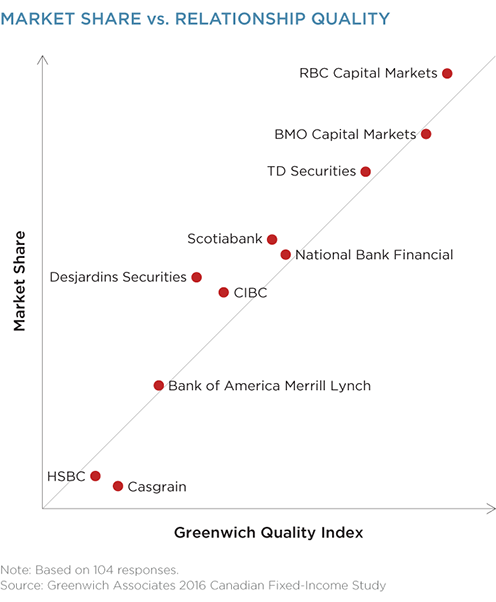 In particular, RBC Capital Markets' strength in new credit issues has helped it ward off competition from BMO and TD Securities, which have increased the quality of service delivered to clients and made gains in secondary trading of investment-grade credit.
Foreign Banks Cede Market Share
The results of the Greenwich Associates 2016 study show gains in market share last year for most of the Big Five Canadian banks. This raises the question: Who is losing that market share? The answer: Foreign competitors.
"Non-Canadian banks have stepped back from the market," says Peter Kane. "To some extent, this can be seen as just another cyclical pullback that seems to happen every five to 10 years. In this instance, however, the shift could be more enduring, since the retreat from Canada is part of a global effort to cut costs and rationalize the allocation of newly expensive capital under the post-crisis regulatory regimes in the United States and Europe."
---
Peter Kane advises on fixed-income markets in Canada.
Methodology
Between February and May 2016, Greenwich Associates conducted 104 interviews with institutional investors active in fixed income in Canada. Interview topics included trading and research activities and preferences, product and dealer use, service provider evaluations, market trend analysis, and investor compensation.