Table of Contents

RBC Capital Markets and TD Securities are deadlocked atop a newly competitive Canadian fixed-income market.
For many years, Canada's fixed-income dealers have pursued RBC Capital Markets, which has maintained a dominant position as the country's No. 1 dealer with Canadian investors. Over the past 12 months, TD Securities has closed the gap, and the two firms are now tied for first place on the list of 2018 Greenwich Share Leaders℠ in Overall Canadian Fixed Income.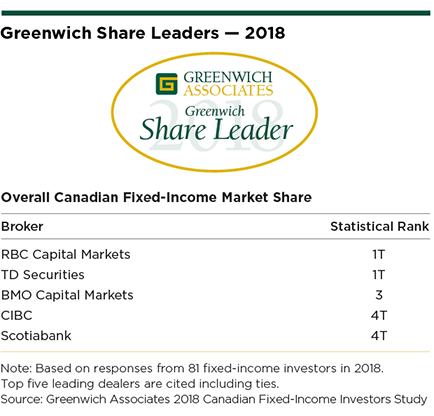 BMO Capital Markets ranks third among Share Leaders. There is considerable distance between this trio and the rest of the Canadian providers. "These top three dealers have captured share from the other bank providers and extended their lead over competitors in the last 12 months," says Greenwich Associates consultant Peter Kane.
TD has leveraged its quality sales effort to build a strong presence in investment-grade credit and, over the past year, has stepped up its performance in rates products. The firm claims the title of 2018 Greenwich Quality Leader℠ in Canadian Fixed-Income Sales, and shares the mantle of 2018 Quality Leader in Canadian Fixed-Income Overall with RBC. "TD has focused on providing excellent service quality to Canada's biggest institutional fixed-income clients, and that effort has really paid off in the past year," says Peter Kane.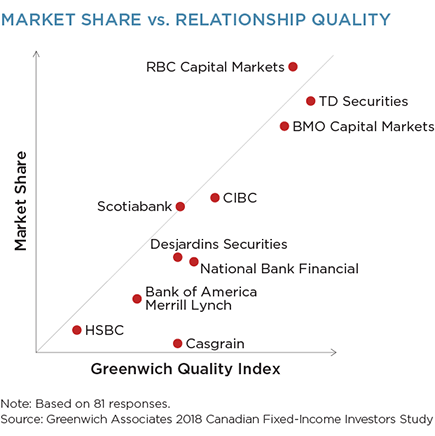 RBC and TD Securities share the top spots across market share and quality rankings with most products. The exception is in Interest Rate Derivatives, where RBC continues to stand out in this important business. RBC together with BMO Capital Markets jointly claim the title of 2018 Greenwich Quality Leader in Canadian Fixed-Income Research.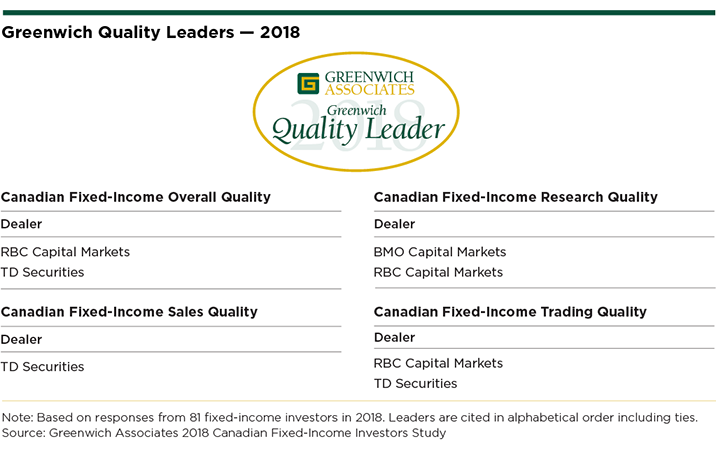 Also achieving notable performance gains is Desjardins Capital Markets, which leads rivals in market share in Canadian government bond trading and has expanded its presence in Canadian mortgage bonds.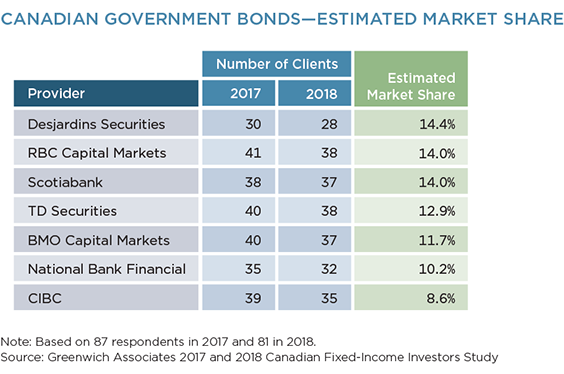 Greenwich Share and Quality Leaders
Greenwich Associates asked the 81 major Canadian institutional investors participating in its 2018 Canadian Fixed- Income Investors Study to name the dealers they use in a range of fixed-income products, to estimate the amount of trading business allocated to each dealer and to rate the quality of these dealers in a series of product and service categories. Based on those results, the five dealers with the biggest market share in individual product categories are named Greenwich Share Leaders. The top dealers (including ties) receiving quality ratings topping those of competitors by a statistically significant margin are named Greenwich Quality Leaders.
Consultant Peter Kane advises on fixed-income markets in Canada.
Methodology
Between February and May 2018, Greenwich Associates conducted 190 product interviews with 81 institutional investors active in fixed income in Canada. Interview topics included trading and research activities and preferences, product and dealer use, service provider evaluations, market trend analysis, and investor compensation.