Executive Summary
The top five dealers in U.S. Treasuries handled 58% of client trading volume in 2016, and the top 10 a collective 85%.
In 2009, just following the credit crisis, these numbers looked remarkably similar. This is surprising, given how much has changed in the global markets in the in the past seven years. Even the names of the top banks have remained the same for the most part, save some notable changes such as the merger of Bank of America and Merrill Lynch.
Table of Contents

The top five dealers in U.S. Treasuries handled 58% of client trading volume in 2016, and the top 10 a collective 85%. In 2009, just following the credit crisis, these numbers looked remarkably similar. This is surprising, given how much has changed in the global markets in the in the past seven years. Even the names of the top banks have remained the same for the most part, save some notable changes such as the merger of Bank of America and Merrill Lynch.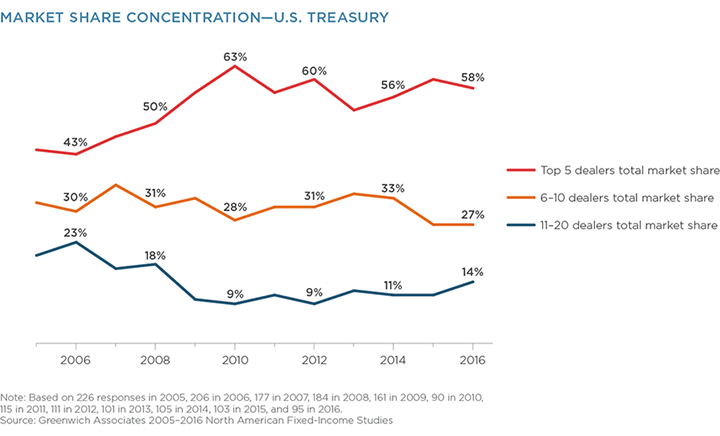 Yet despite this picture of continuity, slow and steady change has is underway. The major dealers and their diminished but still impressive balance sheets will continue to handle the lion's share of investor-directed trading. Electronic trading will continue to grow and along with it, new platforms, trading protocols and the emergence of new market participants. All are motivated by what Greenwich Associates estimates to be $750 million in revenue up for grabs via trading with investors in the U.S. Treasury market leading into 2017.
Treasuries Trump Equities
U.S. investors trading U.S. Treasuries currently trade nearly half of their notional volume electronically, up nearly 17% from 2015, with over 80% now accessing e-trading platforms for at least some of their trades. At these levels, there is proportionally more self-directed buy-side e-trading in on-the-run U.S. Treasuries then there is in U.S. equities, which now sees 46% of trades done electronically, including those sent to crossing networks and portfolio trades. But like equities, this move toward more e-trading has also seen the average trade size decrease, down over 25% in the past two years.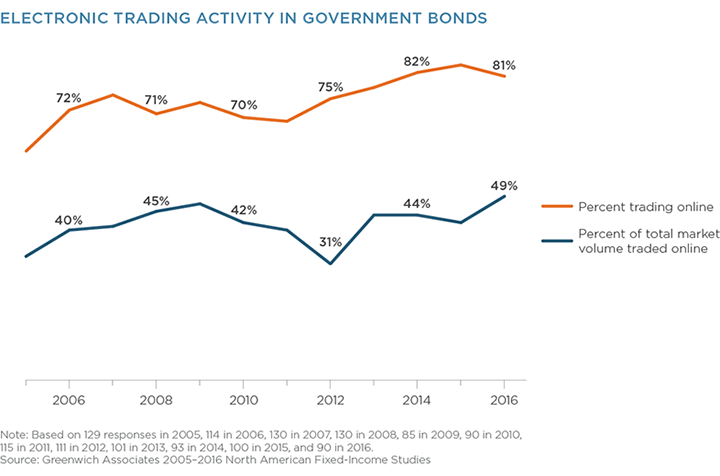 Bloomberg and Tradeweb each handle about half of client e-trading volume in the U.S. Treasury market, a picture that has remained roughly the same for the past several years and looks to remain intact going forward. One-fifth of the Treasury market participants in our study intend to use a new trading platform in the coming year which, at first glance, could signal that a shift is upon us. Examining those responses more closely, however, shows that in half those cases, the shift was from Bloomberg to Tradeweb or vice versa.

Both platforms continue to enhance their current offerings, including both new data services, such as transaction cost analysis (TCA), and trading protocols such as direct streams and anonymous order books that are new to the traditional investor audience. Innovative ways to interact with the market, linkages to related markets such as swaps and derivatives, and cost also play a big part in the stickiness of both Bloomberg and Tradeweb.
Evolving Order Book Market
The one-fifth looking at platforms beyond the biggest incumbents were either quantitative hedge funds or regional banks, with BrokerTec, Direct Match and LiquidityEdge mentioned. While these firms are clients of the traditional U.S. Treasury dealers (hence their participation in our buy-side study), some also operate in the anonymous order book markets both making and taking liquidity. That these firms are looking to new or traditionally dealer-only platforms speaks to some disruption in the anonymous order book market, despite limited change in the platform choices of real-money accounts.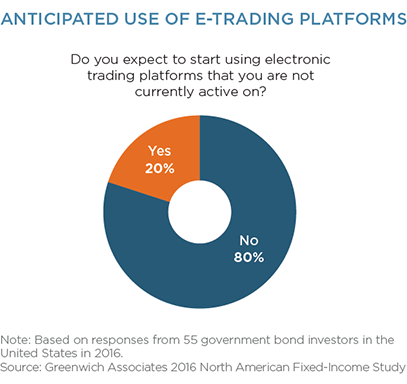 BrokerTec currently handles about 70% of what was previously considered interdealer business, averaging about $160 billion in notional volume traded daily in the 12 months ending August 2016. Over the past few years, BrokerTec has tweaked its offerings to encourage more non-banks to participate. In fact, at a conference in Boston in June, a panel discussion was held with interdealer brokers discussing how they're adjusting their offerings to service the buy side—
a discussion that would have been hugely taboo only a few years ago. Nasdaq's eSpeed and Tradeweb's Dealerweb, which were not specifically mentioned by our study participants, are also in this mix, bringing new products to the market and contributing to the anonymous order book story going forward.
LiquidityEdge stands out as the most notable new entrant, looking to connect liquidity providers to liquidity takers via bilateral, direct pricing streams. While a dealer could send a pricing stream directly to the order management system (OMS) of a client, managing separate connections with each client is time consuming and expensive. LiquidityEdge hopes to act as the conduit for these streams, giving liquidity makers and takers direct access to one another via a single platform. To date, the majority of trading in the platform is between principal trading firms (PTFs) and non-bulge bracket banks, but expanding this concept to traditional investors isn't hard to imagine.
Who Provides the Liquidity
The movement of traditionally interdealer-focused platforms toward investors, coupled with the growth of principal trading and other quantitatively driven firms, has all but destroyed the decades-old view of market segmentation. Trading venues only a few years ago were considered either dealer-to-dealer (D2D) or dealer-to-customer (D2C).  The former utilized an anonymous order book and the latter RFQ, which is where the story ended.
To understand where we are today and where we're headed, we need to throw all of that out and rethink the landscape. Rather than D2D and D2C we now have wholesale and institutional markets (we will keep retail off to the side for this discussion). The former is comprised of brokers, dealers and traders and the latter of traditional investors looking to take a market view. In both cases, market participants can trade either disclosed—knowing their counterparty—or anonymously. With the exception of the RFQ model, which is used by institutional investors only, every market participant now has the ability to trade via phone, order book or direct stream (continuous prices from a single liquidity provider directed at a specific liquidity taker).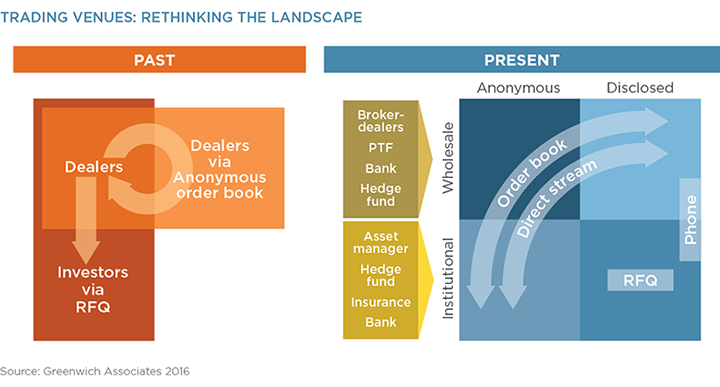 While this new world is certainly more confusing, it provides a host of new opportunities for both liquidity providers and takers. Eight percent of our buy-side study participants currently trade with non-bank liquidity providers, roughly flat from a year earlier. The number planning to start trading away from the major dealers in the next 12 months, however, jumped from 3% in 2015 to 8% this year.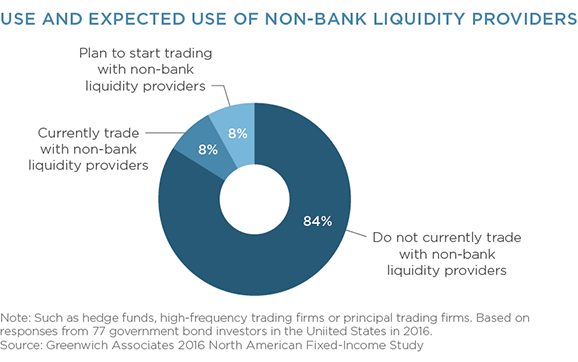 On a volume-weighted basis, these percentages would be much lower, given the world's biggest government bond dealers continue to handle the largest and most important trades in the market. But investors are slowly starting to decouple their execution needs from the broader array of services that large money center banks continue to provide. For instance, 70% of investors told Greenwich Associates that they trade government bonds with dealers that don't provide repo/financing, a major offering of bulge-bracket banks to facilitate client trading, given their unmatched access to balance sheet (albeit less than in the past). Clients also seem less concerned about whether their trading counterparties are primary dealers, with two-thirds telling us they'd continue to trade with their dealer counterparties even if they were no longer primary dealers.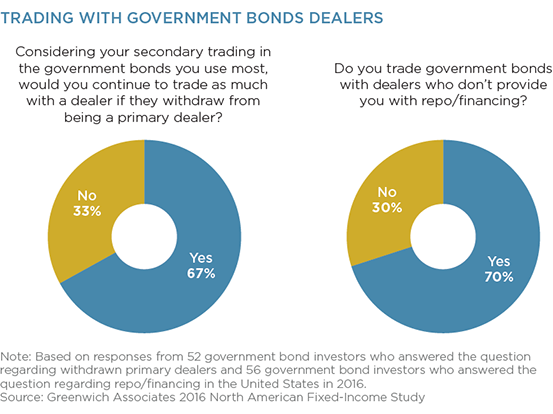 This is a sure sign of changing times, but don't expect the primary dealers to lose their role as the biggest source of government bond liquidity for investors. Principal trading firms have most certainly upped their place in this market over the past 10 years but still have only limited interest in trading directly with institutional investors. They instead are focusing on banks both large and small, offering them on-demand liquidity to help hedge risk or adjust their positions. Virtu, for instance, provides technology to improve a bank's internal infrastructure, ultimately reducing the cost of creating and maintaining top-notch Treasury trading technology in-house.
The current economic landscape coupled with new regulations have made the trading of on-the-run Treasuries with clients a low-margin business for traditional dealers, which has forced them to find every efficiency they can—often via fewer people and more computers. But when rates rise and markets conditions improve, which they will eventually, expect the large dealers that have doubled down on this business to thrive and the PTFs to increasingly move beyond their prop-trading roots into new revenue streams. Ultimately, profit margins will rise for the liquidity providers, with the buy side experiencing the best access to government bond market liquidity they have ever seen.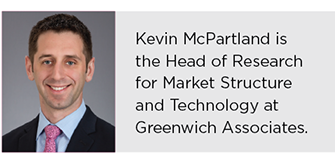 Methodology
Between February and April 2016, Greenwich Associates interviewed 998 U.S. institutional investors active in fixed income, including 95 active in U.S. Treasuries. Interview topics included trading and research activities and preferences, product and dealer use, service provider evaluations, market trend analysis, and investor compensation.