Executive Summary

Key Takeaways from July Data
Volumes declined 17.5% in July, as market participants waited for the Federal Reserve's rate cut announcement.
Trading venue volumes dropped largely in line with the total market, keeping market share mostly unchanged. The "alternative" platforms, however, are continuing to make progress.
Dealer inventories are at their lowest level since November 2018.
SOFR open interest continues its slow grind upward, hitting a new record in July.
Sentiment among U.S. Treasury traders declined, and the Greenwich UST Liquidity Score hit its lowest level since we created this metric in May.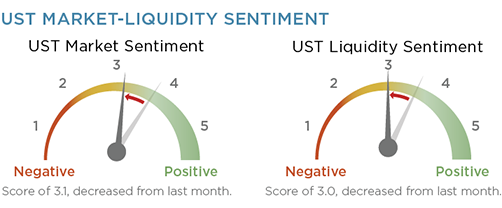 Methodology
Greenwich Associates continuously gathers data and insights from U.S. Treasury market participants including asset managers, hedge funds, primary dealers, market makers, and trading platforms. The data, once aggregated, normalized and enhanced, is analyzed by our market structure research team who identify key areas of change and the likely direction of volume, holdings, market share and other trends in the coming months.