Executive Summary

Over 80% of OMS users and 90% of EMS users are working with third-party systems today. After nearly three decades of development in some cases, the quality of the commercially available options creates a still hard-to-match ROI calculation. Equity and fixed-income desks utilize different OMS and EMS providers as each provider has its sweet spot, although given recent M&A activity, this may not always be the case.
Table of Contents

Competition among order and execution management system (OMS and EMS) providers has always been fierce. The 25-year-old market segment matured long ago, with the major (and minor) providers fighting for a limited client base that on average only changes providers once a decade. And while the buy side spent $1.4 billion on order and execution management systems in 2018, wrestling even some of those dollars away from the competition is harder than taking a smartphone from a millennial. Nevertheless, competition is about to get even tougher.

The last four years came with no less than seven OMS/EMS acquisitions, with the biggest and most impactful happening in the past year. Slightly more than two-thirds of buy-side order and execution management spending is done with the top four platforms by revenue (BlackRock, Bloomberg, State Street, and SS&C). But unlike other M&A sprees, this one is not a consolidation play. In fact, one could argue that only SS&C's purchase of Advent, and more recently EZE, was about consolidation.

Instead, the acquisitions were about leveraging the inherent distribution and functionality within the platforms to expand the reach of a different yet complementary business. With Charles River, State Street has made their service offering truly front to back and can use its huge customer base to increase use of the platform. Virtu can further distribute its liquidity and analytics to customers, Ion can get into equities, and Refinitiv now has execution functionality built into its market-data desktop, Eikon.
While these combinations make great sense on paper, as yet, it is unclear how the asset managers and hedge funds, who act as the biggest clients to these platforms, will react. As of the fourth quarter of 2018, our data shows that only 6% of buy-side firms plan to switch their EMS in the coming year, and only 8% their OMS. Despite the market upheaval, our data shows that this is level of expected change has remained fairly stable over the past five years. But this does not take into account the small yet meaningful percentage of market participants that do not yet have an OMS or EMS. If State Street, for instance, is able to leverage its market reach to further deploy Charles River's revenue growth, the entire segment could see growth.

However, competition coupled with the economies of scale of the biggest providers could conversely drive pricing down, shrinking that $1.4 billion dollars in the coming two to three years. It could also reinspire smaller startups that pitch their platforms as more modern and more nimble alternatives to their bigger competitors. And while customer service in many cases should only improve, major integrations are rarely pain-free and could inflict short-term harm on customers. Regardless, after a decade of slow and steady change, the order and execution management industry is primed to get exciting once again.
Buy vs. Buy
Over 80% of OMS users and nearly 90% of EMS users are working with a third-party system today. For most, building in-house isn't an option, as the complexity of compliance rules, order routing and nearly every other included featured makes it hard to justify the cost. After nearly three decades of development in some cases, the quality of the commercially available options creates a still hard-to-match return-on-investment calculation. Those that do build in-house are either technology-heavy asset managers or hedge funds, whose secret sauce is better implemented with a custom build or those firms who own their own third-party provider (e.g., BlackRock).

Equities
Particularly given recent transactions, the market for equity OMSs remains the most competitive subsegment. The new SS&C, which includes both EZE and Advent, was used most often, based on Greenwich Associates data. State Street's Charles River and Bloomberg's AIM followed suit, with those three products used by over two-thirds of our study participants. While Charles River and Bloomberg have duked it out for the top spot for years, the combined SS&C has very quickly moved into that fray. Exactly how it works to integrate Advent, EZE and its various other properties in the coming years will be a major factor in its success going forward.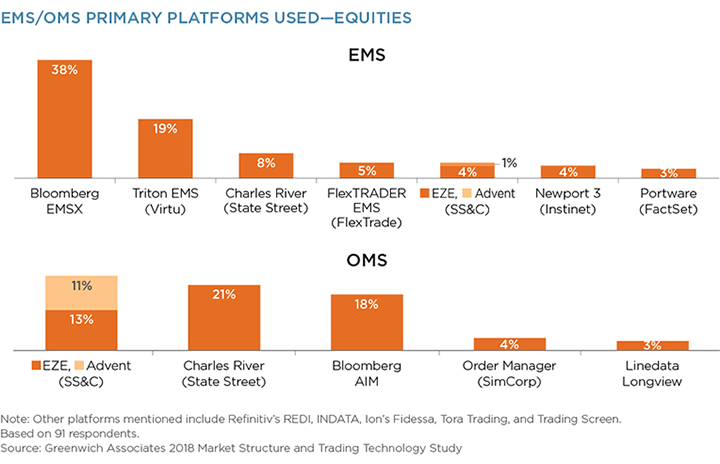 The equity EMS segment has been long dominated by Bloomberg's EMSX. Nearly 40% of our equity respondents use EMSX today. The ubiquity of the Terminal on trading desks brings EMSX to traders at no additional charge, and Bloomberg has invested tremendously to ensure the platform's popularity doesn't wane. But continuing with the theme of change, Virtu's acquisition of EMS pioneer ITG is notable. ITG was one of the first to enter the EMS game with its Triton EMS in the 1990s and has maintained a strong position and reputation ever since. ITG received the highest "likely to recommend" score in a highly competitive field. Now combined with Virtu's technology prowess, the platform is poised to only get stronger.
The rest of the field is made of long respected veterans as well. Charles River (while somewhat new to the EMS game), FlexTrade, SS&C, Instinet, and FactSet's Portware also have solid, dedicated user bases that are in no rush to switch providers.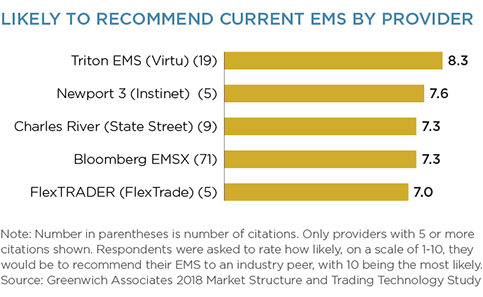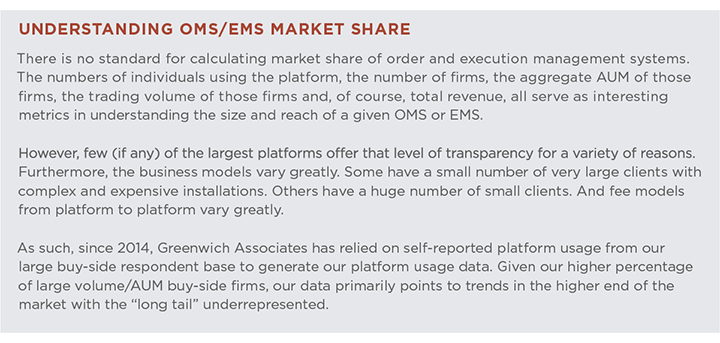 Fixed Income
The fixed-income trading system story is a different one entirely. Until only recently, the EMS concept didn't even exist for fixed-income traders, as bond electronic trading was limited and only executed through the venue front ends. Even today, the buy side does most of their electronic trading via the platform front ends, using OMSs and EMSs to push orders into those platforms where they are ultimately worked.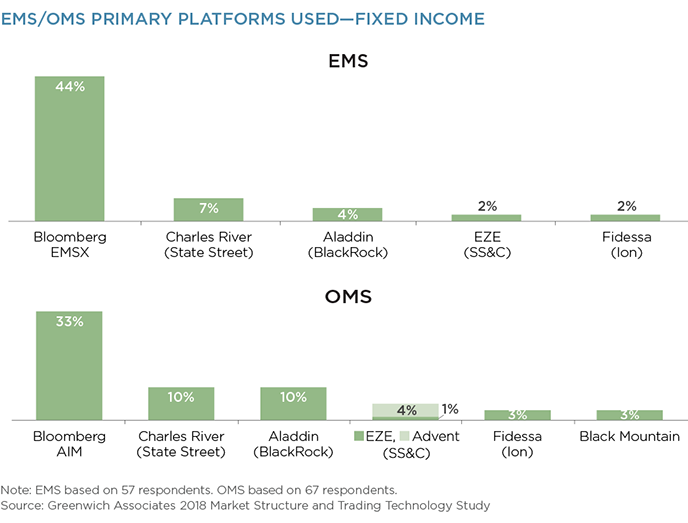 Bloomberg is a clear leader here, which dates back to the early days of the Bloomberg Terminal, when it was driven largely by its unique fixed-income market data. State Street's Charles River has maintained a long presence in this space as well, most recently building out its execution capabilities. BlackRock's Aladdin platform, which includes much more than order and execution management functionality, has also expanded its presence beyond those managing highly complex derivatives portfolios where it began, and is well liked by its users. Deals inked with both MarketAxess and Tradeweb have helped not only those systems, but also the Aladdin platform itself to expand its customer base.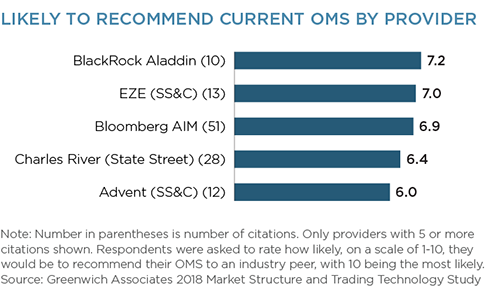 The EMS landscape is the one to watch over the next 12-24 months. While all of the largest players already mentioned are surging ahead, leveraging their existing presence to capture more market share, a few others are worthy of attention. Algomi has reshaped its business in the past year to focus on its ALFA corporate bond trading platform. They hope their experience in aggregating bond data will lead to price improvement for customers trading via the platform. Others to watch: Axe Trading is expanding its presence beyond its London home, and Adroit Trading Technologies is moving beyond its swaps market roots into bond markets.
The most impactful acquisition in this realm is Fidessa by Ion Group. Ion is well known as an aggregator of liquidity in the U.S. Treasury market. Combining that with Fidessa's buy-side and sell-side offerings in equities and other asset classes could result in a combined offering that is worth more than the individual pieces. How (or even if) that integration will occur, however, remains unclear.
Don't Expect a Revolution
Ironically, this is not a fast-moving part of finance. While both order and execution management systems now process orders and help execute trades faster than ever, changing course is akin to steering a cargo ship rather than a jet ski. We, of course, mean no disrespect to those that develop and deploy these amazingly complex and sophisticated pieces of technology. However, their complex and mission-critical nature is what makes change happen slower than many would like.
Previous Greenwich Associates data shows that slow and inefficient software deployment processes cost financial services firms $1.5 billion annually. This is something the trading ecosystem should work particularly hard to rectify, as it will allow faster innovation while still limiting the risk that one small bug shuts down an entire trading desk. And with system integrations the big story of 2019 for so many of the top providers, being able to change the tires while the car is still moving could mean the difference between growth or extinction.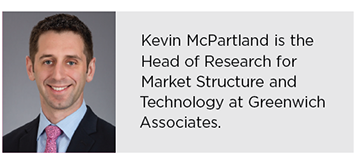 Methodology
Greenwich Associates interviewed 256 buy-side traders in the United States and Europe in the fourth quarter of 2018. Questions focused on their use of order and execution management systems, examining usage, plans to change, and how they expect the market to develop over time.