Executive Summary
Compliance is a crucial component of financial firm infrastructure, and the role of compliance departments in firm operations has become a fact of life for most capital markets participants. This is particularly true in the decade since the financial crisis, as the importance of compliance has skyrocketed, along with global regulatory mandates and shifting public perception of acceptable compliance standards. Most firms in the financial sector agree that compliance standards are important—to both continuing operations and the firm's overall livelihood.
Methodology
Throughout Q2 and Q3 2019, Greenwich Associates interviewed 187 professionals and executives working directly in compliance roles for the 2019 Global Compliance Study, executed in partnership with Nasdaq. Interviewees were highly experienced, with 61% working at a director or executive level, representing broker-dealers, buy-side firms, corporate entities, retail banks, and market infrastructure entities1. Global distribution of respondents was wide, with the largest share of responses (34%) coming from the United States, followed by EMEA (28%), Asia (22%), and other geographies.
Proprietary analysis of the 2019 Global Compliance Study results was completed by Greenwich Associates. Historical study results dating back to 2015 were provided by Nasdaq and were used to interpret trends over time, as the distribution of participant demographics have remained consistent. Where applicable, statistical significance testing was conducted by Greenwich Associates; statistically significant conclusions indicate that the selected responses lay outside of two standard deviations from the mean when tested at the 95% confidence level.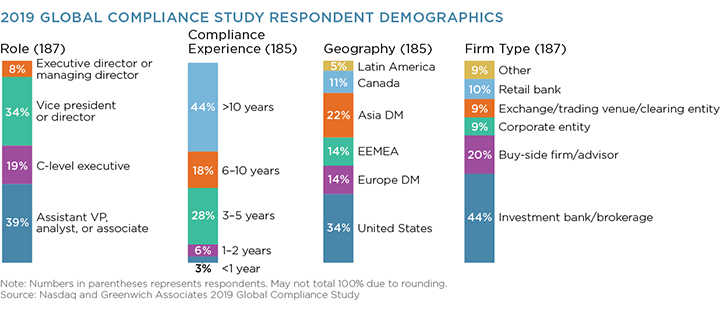 1Market infrastructure entities included exchanges, alternative trading venues, clearinghouses, and regulatory entities.