November 17, 2020 | Stamford, CT — Branch closures, snags in the PPP loan process and other disruptions strained relationships between many banks and their retail and commercial banking clients this year. 
However, a small group of banks that had committed to superior customer experience as the centerpiece of their strategies stood out during the COVID-19 crisis by stepping up and helping their small business, middle market and retail clients navigate pandemic challenges. 
Every year, Greenwich Associates recognizes financial services organizations with results that demonstrate a fundamental commitment to providing best-in-class customer experiences. The 2020 Greenwich CX Leaders deserve special recognition for their ability to pivot their models into an "all-hands" effort to deliver that top quality experience and meet client needs in an unprecedented crisis.
"Organizations with an embedded mindset of putting the customer's needs first were able to develop and implement crisis action plans quickly because that's what their cultures and business processes were designed to do," says Jacqueline Vose, Relationship Director, Greenwich Associates.
Among the standouts of the 2020 Greenwich CX Leaders list are BBVA, which ranks among the leaders in both U.S. Commercial Small Business and Middle Market Banking, and Camden National Bank, which ranks as a leader in both U.S. Commercial Small Business and Retail Banking.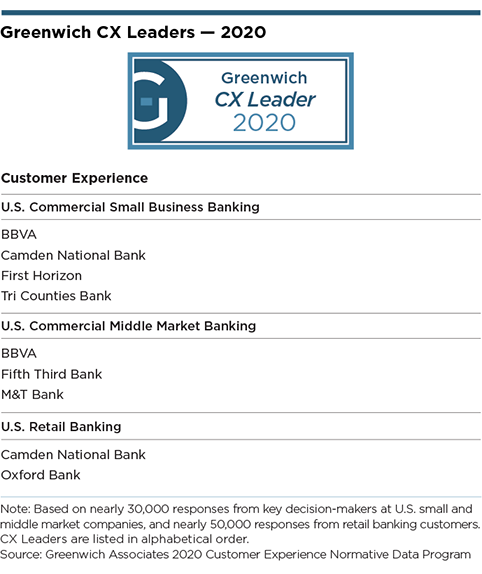 "The fact that these banks were able to clear the high bar set by these standards amid this year's epic disruptions is a testament to both the quality of their management and execution, and the potential rewards for banks that strive to deliver exceptional service," says Ron Balmer, Relationship Director, Greenwich Associates.