Table of Contents

This year's list of Greenwich Share and Quality Leaders in European equity research, research sales and execution should be considered within the context of MiFID II. Is this a last look back at the old order or an indication that a handful of firms with the scale and quality to thrive in the new environment will continue to dominate?
Some impacts from the new regulations already are apparent—most notably, the decline in the proportion of larger institutions' commission spend attributable to research, which went from 58% of overall commissions two years ago to 50% in 2016. At the same time, larger institutions have modestly reduced the number of research providers and are flowing a growing proportion of commissions through CSA programs. In other words, "unbundling" is already under way.
Looking forward, institutions anticipate modest downward pressure on overall research budgets but a much larger shift away from commissions and toward hard payments. Institutions also expect to use significantly less research from global investment banks but more from independent research providers.
"If realized, these projections could dramatically alter the current competitive order," observes Greenwich Associates consultant Satnam Sohal. However, broadly based global investment banks play a unique role in helping clients understand the market consensus around the drivers of stock prices. And with active managers' fees and profitability under pressure, it's questionable how much research expense managers can actually bring onto their own P&Ls.
Greenwich Share Leaders
Against this backdrop, Morgan Stanley tops the list of 2016 Greenwich Share Leaders in European Equity Research/Advisory, with 8.0% of the commission-weighted vote. UBS and Exane BNP Paribas follow in a statistical tie for second. Bank of America Merrill Lynch, Deutsche Bank, J.P. Morgan, and Credit Suisse round out the top four, with scores ranging from 5.9%–6.6%. Morgan Stanley and Exane BNP are the only leaders that gained in share of the vote from last year, while the others either held position or lost ground.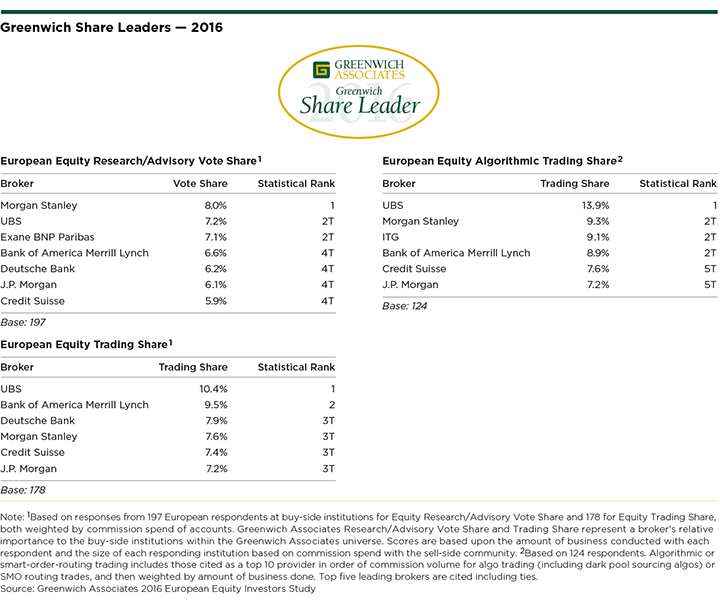 In European Equity Trading (encompassing high-touch and low-touch flows), UBS again holds onto a position as the market leader with a trading share of 10.4%, followed by Bank of America Merrill Lynch in second and the quartet of Deutsche Bank, Morgan Stanley, Credit Suisse, and J.P. Morgan statistically tied for third with scores between 7.2% and 7.9%.
The same pressure on the leaders in research/advisory to hold their positions is not apparent on the trading side, with bulge-bracket firms as a group responsible for nearly 70% of commission share.
UBS' ongoing strength is partly driven by its algorithmic trading capabilities, where it significantly tops its rivals with a weighted trading share of 13.9%. Scoring from 8.9%–9.3%, Morgan Stanley and Bank of America Merrill Lynch follow, joined by ITG in a statistical tie for second. Credit Suisse and J.P. Morgan complete the list of the top five. These firms are the 2016 Greenwich Share Leaders
in European Equity Algorithmic Trading.
Greenwich Quality Leaders
Greenwich Quality Leaders℠ are firms whose institutional clients award them with quality ratings that top those of competitors by a statistically significant margin. It is not always possible for individual competitors to clearly separate themselves from the pack, and this is the case with the 2016 Greenwich Quality Leaders in European Equity Sales & Corporate Access: Bank of America Merrill Lynch, Credit Suisse, Exane BNP Paribas, Kepler Cheuvreux, Morgan Stanley, and UBS all earn top honors. In European Equity Research & Analyst Service, on the other hand, Morgan Stanley alone is named Greenwich Quality Leader.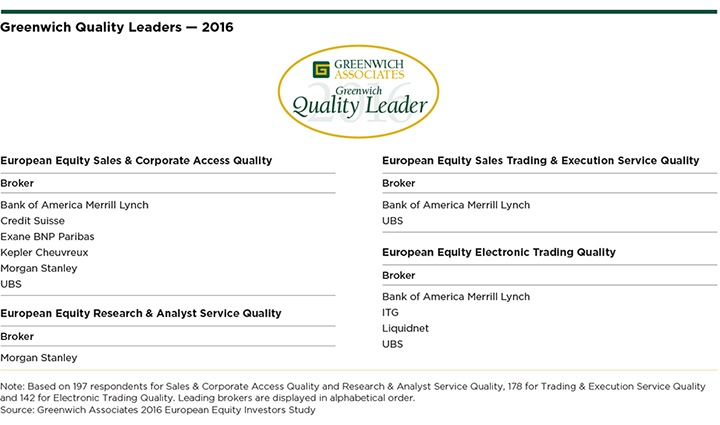 The Greenwich Quality Leaders in European Equity Sales Trading & Execution Service are Bank of America Merrill Lynch and UBS. At roughly a third of European equity trading volume, electronic trading remains a key source of liquidity. Bank of America Merrill Lynch, ITG, Liquidnet, and UBS are the 2016 Greenwich Quality Leaders in European Equity Electronic Trading.
Consultants Jay Bennett, John Colon, John Feng, Thomas Jacques, and Satnam Sohal advise on the institutional equity markets globally.
Methodology
From March to May 2016, Greenwich Associates interviewed 197 portfolio managers and 178 traders at European institutions about the research, sales and trading services they receive from their brokers. These portfolio managers and traders were also asked about current market practices, trends and compensation.