Growing uncertainty about the future of operating systems and devices used by financial services firms is forcing technologists to consider technology-agnostic application development. Our latest research suggests that companies developing applications under the assumption that a firm will retain its current OS and devices—even for a few years—may be making a critical mistake.
Of the 149 financial service firms participating in the study, only 35% of respondents have committed to Windows beyond 2017. We believe the majority will continue using Microsoft, but Apple has seized the opportunity to build a 22% market share among respondents.
We're seeing wide-spread hesitation to commit to technology even three years down the line. This only heightens the importance of future-proofing new applications so that the underlying operating system and hardware don't matter.
Despite its roots in web content, HTML5 has emerged as a focal point of this transition. The language has succeeded in delivering native, real-time financial applications regardless of OS or device. Accessing an application from a Windows 7 desktop at work, and then your iPhone after you leave the office is the next frontier in financial services technology.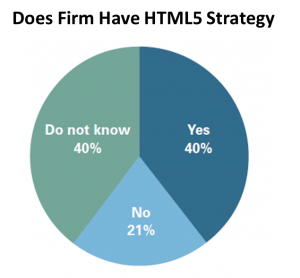 HTML5 provides the swift performance needed to compete in fast-paced markets, and the multimedia-rich experiences demanded by today's users. Additionally, HTML5 is an industry standard that is free from vendor control (unlike Oracle-owned Java).
However, despite the benefits of HTML5 applications, there isn't much urgency across the market. Only 40% of respondents indicated that their firm has an HTML5 strategy in place. Now is the time to implement a device agnostic development approach using industry standard technology such as HTML5 to ensure stability in the increasingly fragmented mobile and OS landscape. The long term benefits will more than outweigh the short term costs.