Table of Contents

For the second consecutive year, RBC Capital Markets is widening its lead over the competition in the Canadian equity brokerage business.
RBC heads up the list of Greenwich Associates 2017 Share and Quality Leaders in Canadian Equities, topping all rivals by a wide and expanding margin in both trading share and research/advisory vote share.
Greenwich Share Leaders
"RBC and BMO both increased their share in trading last year, but RBC's gains again outpaced all other brokers," says Greenwich Associates Managing Director Jay Bennett.
"Both firms also grew their vote share in Research/Advisory Services, where BMO's gains have carried the bank to a tie for second place with Scotiabank."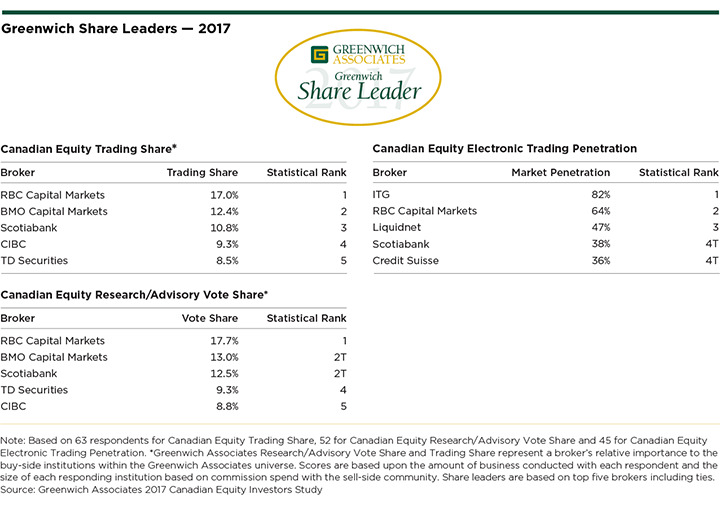 In trading, BMO Capital Markets retains its No. 2 position behind RBC, followed by Scotiabank, CIBC and TD Securities. On the list of 2017 Greenwich Share Leaders℠ in Canadian Equity Research/Advisory Services, BMO Capital Markets and Scotiabank are statistically deadlocked in the second spot behind RBC, which extended its lead over all competitors last year. TD Securities is next, followed by CIBC.
ITG leads the market in penetration in Canadian Equity Electronic Trading, followed by RBC Capital Markets, Liquidnet, Scotiabank, and Credit Suisse.
Greenwich Quality Leaders
As part of its 2017 Canadian Equity Investors Study, Greenwich Associates interviewed 52 institutional portfolio managers and 63 institutional traders about the brokers they use for Canadian equities. Study participants were asked to rank order the brokers they use for research/advisory services, trade execution and other services, to estimate the share of their overall commission volume allocated to each firm, and to rate the quality of service they receive from each broker.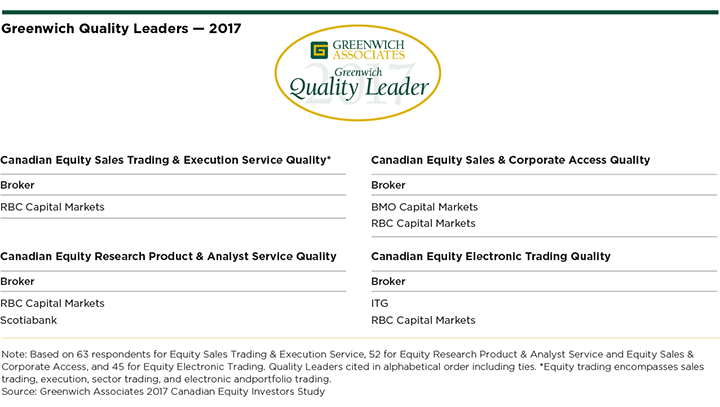 RBC Capital Markets is the 2017 Greenwich Quality Leader℠ in Canadian Equity Sales Trading & Execution Service. In Canadian Equity Research Product & Analyst Service, the 2017 Greenwich Quality Leaders are RBC Capital Markets and Scotiabank. The 2017 Greenwich Quality Leaders in Canadian Equity Sales & Corporate Access Quality are BMO Capital Markets and RBC Capital Markets. In Canadian Equity Electronic Trading the 2017 Quality Leaders are ITG and RBC.
Trading Commissions Hold Firm
The pool of total cash equity commissions earned by brokers on trades of Canadian equities within the Greenwich Associates universe increased approximately 2% last year to an estimated $685 million. "Although that increase seems modest, it represents a strong outcome for brokers relative to results for brokers in the United States, where broker commissions on trades of U.S. equities fell   11–12% last year and have dropped some 27% since 2011," says Jay Bennett.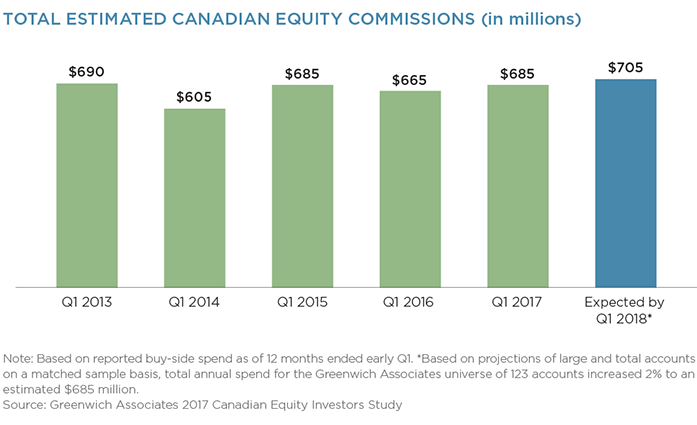 Consultants Jay Bennett and Peter Kane advise on the institutional equity markets globally.
Methodology
Between December 2016 and February 2017, Greenwich Associates interviewed 52 Canadian generalist equity portfolio managers and 63 Canadian equity traders at Canadian and U.S. buy-side institutions. The study participants were asked to evaluate the sales, research and trading services they receive from their equity brokers and to report on important market practices and trends.