Executive Summary
In Q4 of 2016, Greenwich Associates conducted 181 online interviews across North America, Europe and Asia to bring clarity to the commission rates firms pay for equity trades. The result is a truly comprehensive view across 77 MSCI-defined developed, emerging and frontier markets.
The value of the study is derived from the ability of buy-side equity traders to utilize our data to accurately compare their commission rates with industry peers. Reviewing commission rate schedules supports best-execution committee activities, potentially saves money for a firm and its clients, and ensures executing brokers are properly incentivized and compensated.
After thorough analysis, we've identified several interesting findings and year-over-year trends. Most notable among these is the across-the-board decrease in the commission rates paid in emerging markets. Although developed market rates remained steady year-over-year, emerging markets are clearly becoming more accessible to investors.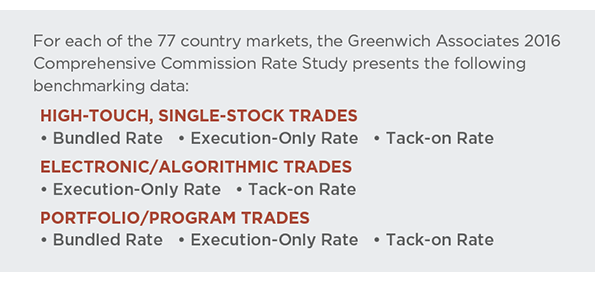 Methodology
Between September and November 2016, Greenwich Associates interviewed heads of equity trading at North American, European, and Asian institutions regarding typical commission rates paid across 77 different markets. Desks were asked for their overall bundled rate, execution-only rates for both high-touch and electronic trades, tack-on rates for both high-touch and electronic trades, and portfolio trading and all-in blended rates across developed, emerging and frontier markets.