Table of Contents

After years of post-crisis tumult, Europe's fixed-income business is finally showing signs of stability. However, because that stability has arrived just ahead of the potentially disruptive start of MiFID II and a possible shift in the credit cycle, it could prove short-lived.
J.P. Morgan, Barclays and Citi remain the top three dealers of European fixed income in 2017. These dealers not only retained their top three spots, but also increased their combined market share by 2.1%. Goldman Sachs now ranks fourth, followed by HSBC, BNP Paribas and Bank of America Merrill Lynch, which are statistically tied in terms of market share. These firms are the 2017 Greenwich Share Leaders℠ in Overall European Fixed Income.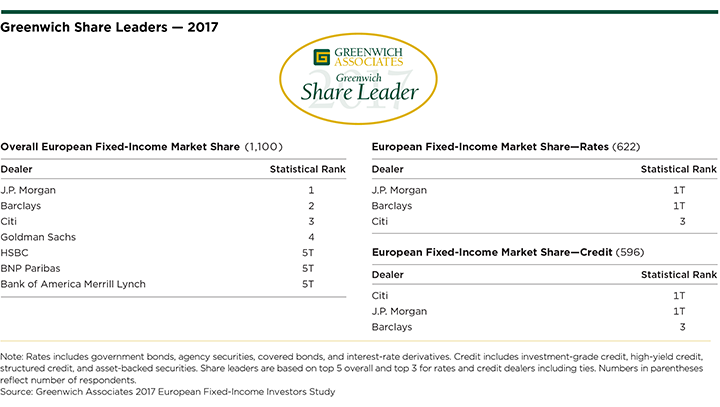 J.P. Morgan and Barclays head up the list of Greenwich Share Leaders in European Rates products, followed by Citi. Citi joins J.P. Morgan at the top of the list in Credit products, followed by Barclays.
"There was less volatility in the competitive landscape this year," says Greenwich Associates consultant Satnam Sohal. "There were no upheavals among the major dealers and investors were less active in shifting wallet among dealers."
Electronic Trading
Whether due to low levels of market volatility and trading activity, or the approach of some natural limit, growth has stalled in European fixed-income electronic trading, and volumes have hit a plateau. When they do trade electronically, investors gravitate to the market's biggest dealers. J.P. Morgan, Citi and Barclays are the 2017 Greenwich Leaders in the Rates and Credit product categories. "Despite any pause in e-trading growth overall, market participants of all types are investing heavily in algorithmic pricing, which will eventually become a powerful force in fixed income," says Greenwich Associates consultant Tom Jacques.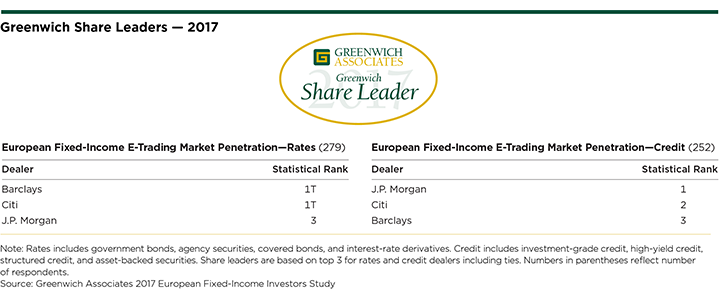 Greenwich Quality Leaders
Across the board, J.P. Morgan is the market leader in service quality, claiming the title of 2017 Greenwich Quality Leader℠ in Overall Fixed-Income Service, Research, Sales, Trading, Rates Products, and Credit Products.
Greenwich Associates asked the 1,100 investors interviewed for its 2017 European Fixed-Income Investors Study to name the dealers they use in a variety of products and to rate the quality delivered by these banks. Dealers receiving quality ratings topping those of competitors by a statistically significant margin were named Greenwich Quality Leaders.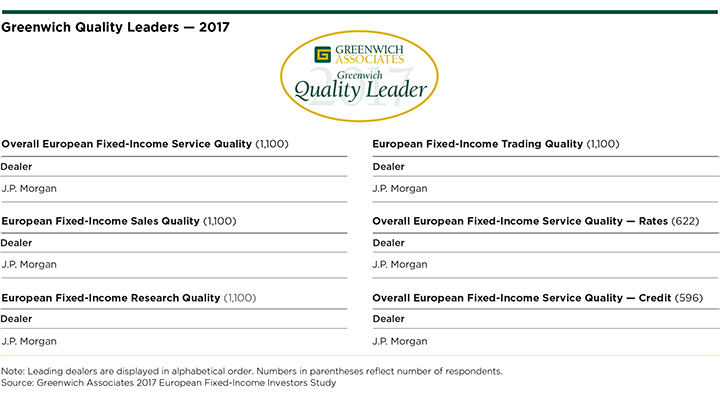 Consultants Andrew Awad, Frank Feenstra, Tom Jacques, and Satnam Sohal advise on fixed-income markets across Europe.
Methodology
Between May and July 2017, Greenwich Associates conducted 1,100 interviews with senior fixed-income investment professionals at banks, fund managers/advisors, insurance companies, corporations, central banks, hedge funds, and other institutions across Europe.
Countries where interviews were conducted include Austria, Belgium, Denmark, Finland, France, Germany, Greece, Italy, Luxembourg, Malta, the Netherlands, Norway, Portugal, Spain, Sweden, Switzerland, the United Kingdom and selected interviews conducted in Central & Eastern Europe and the Middle East. Interview topics included service provider assessments, trading practices, market trend analysis, and investor compensation.