Executive Summary

Although, exchanges have improved the latency and reliability of both direct exchange feeds and consolidated feeds, market participants complain about having to subscribe to expensive direct feeds. This Greenwich Associates report looks into usage of direct exchange feeds and their importance to the market.

On October 16th, the SEC rejected proposed fee increases for proprietary exchange data feeds. While this does not mark the end of a decade-long legal dispute, it certainly tips the scale against the exchanges. As SEC Chairman Clayton noted in a public statement, "To be clear, the Commission's decision does not mean the fees were too high—rather it means that the exchanges have not provided sufficient factual and legal support to continue to charge those fees."1
SIFMA, among other industry participants, alleges that exchanges exhibit monopoly-power pricing by charging exorbitant and increasing fees to purchase their proprietary data feeds. They argue broker-dealers, market makers, hedge funds, and data distributors, among other market participants, must purchase proprietary exchange data feeds in order to remain competitive.
Exchanges, on the other hand, argue that market data fees have not been continuously rising and that strong competition among the exchanges dictates any movements in pricing. They also assert that investors are not harmed by increases in market data fees, pointing out that both the average commission rate paid by institutional investors and the average transaction fee paid by retail investors have declined.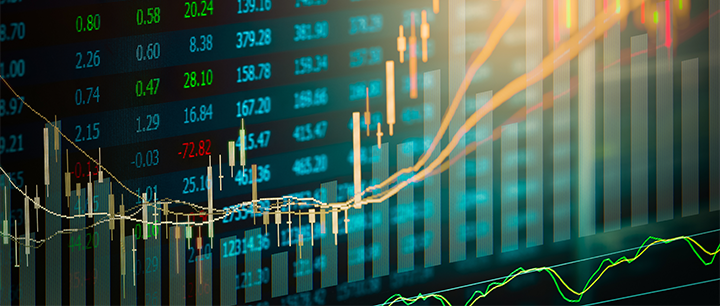 The Need for Data—SIP vs. Direct Exchange Feeds
In 1975, the SEC created the NMS and mandated that exchanges provide consolidated SIP feeds at a reasonable price. As electronic trading in the equity market continues to expand, the need for data grows along with it. Whether for inputs into algorithmic trading tools or other pricing and risk models, brokers and institutional investors have a greater appetite for more data than ever before. As a result, the exchanges have created proprietary direct exchange feeds to provide additional depth of data, available to participants for a fee.
Consolidated feeds include core quotation and trade data across exchanges into a centralized source. Prices of the SIPs are determined by an Operating Committee comprised of the exchanges and FINRA. SIP prices, as well as other aspects of the SIP, are under the purview of the SEC. This approval process in the past was typically just a rubber stamp. In its recent ruling, however, the SEC rejected two price increases for the first time, ruling against NYSE Arca and Nasdaq.
The exchanges also sell additional, more comprehensive, proprietary data feeds to market participants. These have been brought under fire, as investors feel increasingly obligated to purchase the more expensive feeds. Exchange feeds are typically delivered in ultra-low latency speeds and provide powerful data such as "depth-of-book" and "imbalance" data. These data are essential for most institutional broker-dealers to understand liquidity in the market and to manage their queue position. To get a broad view across the fragmented market, broker-dealers are reliant on data from each exchange.
Market Data Usage
Complex systems and tools rely on data feeds as inputs used to generate profit-creating ideas, identify the ideal execution protocol, and for the ever-important proof of best execution. Rule 611 of Reg NMS, also known as the "Order Protection Rule" or "Trade-through Rule," restricts the execution of trades on one venue at prices that are inferior to "protected" quotations. In order to be protected, a quotation must be disseminated via the SIP feed, in addition to being automated (immediate and automatically executed) and a "best bid" or "best offer." Therefore, participants need to have access to all of the exchanges, either through direct exchange feeds or SIPs. As such, many market participants are increasing spending across terminal products and consolidated and direct exchange feeds, as well as for security pricing and reference data.
In order to reduce latency, investors frequently purchase direct exchange feeds in addition to a consolidated feed. Institutions are spending millions of dollars upgrading co-location systems, fiber cabling and other methods to decrease the time it takes for data to enter their valuable systems—and the data feeds must match these expectations.
Other benefits to the direct exchange feeds include the additional granularity of data mentioned above, as well as perceived increased reliability and accuracy to the consolidated feeds. Although consolidated feeds are considered reliable and accurate in their own right, direct feeds offer additional flexibility for how the data can be used or normalized, reduced latency, as well as less processing that could lead to additional opportunities for errors.

Unsurprisingly, the biggest complaint from investors around exchange feeds are cost-related. Not only have fees increased in recent years—and market participants feel that there are no viable substitutes to the proprietary exchange feeds—but exchanges also charge for port feeds, cross connects, administrative fees, hardware fees, and other fees in order to gain market access. There may be some merit to these concerns. For smaller and independent broker-dealers, market data fees represent a large proportion of their costs. Clearpool Group, in their comment letter to the SEC2, revealed 25% of their non-human-capital operating expense in their first year was due to market data and access fees.
These powerful, proprietary exchange feeds are not without costs to the exchanges. In their legal defense, the exchanges sought to prove that a healthy competitive market for exchange data warranted the fee increases. The SEC ruled that the exchanges did not meet the burden of proof via their argument of the products' elasticity of demand. Instead, the SEC was hoping exchanges would reveal the costs of producing and disseminating direct feeds in order to defend the fee increases. As a result of the SEC Roundtable, some exchanges indicated that they would be willing to do so under confidentiality to the SEC.
It's important to note, however, that the speed and reliability of these data feeds (two of the critical factors for electing to take exchange data feeds) have also improved. The advent of high frequency trading firms, alternative trading systems and increased fragmentation in the market due to electronification has led to increased messaging rates in the major exchanges. NYSE and Nasdaq average nearly 100,000 messages per second. In aggregate, proprietary exchange data feeds average nearly 500,000 messages per second.


With all of this activity and throughput being sent out in just microseconds to all with a feed, exchanges must maintain top-of-the-line technology tools in order to ensure delivery. Exchanges also offer co-location services to market participants for an added fee. Participants are able to reduce latency via co-location by 2–5 microseconds by upgrading to these packages3.
Exchange Technology
Despite the ongoing battle over data fees, investors are largely content with the technology management of the exchanges. Only 4% strongly disagree that exchanges are doing a good job in managing their technology, with nearly 30% in strong support. The quality and reliability of this exchange technology obviously comes with a cost.

In the same way, high frequency trading firms are willing to spend millions in order to decrease latency by just nanoseconds. In this hypercompetitive data market, exchanges are forced to continue pushing the boundaries of their technology capabilities—not just as it pertains to data, but also for their matching engines, connectivity, data centers, and cybersecurity efforts.
Conflicts of Interest?
It is often argued that the for-profit structure of U.S. public stock exchanges is in conflict with their self-regulatory authority. Since exchanges have historically served a transactional service for market participants, the exchanges' primary revenue sources have been related to this function: listing fees, connectivity fees and trading commissions.
Yet, in the face of declining volumes and stagnant listing services revenues, exchanges are forced to search for additional revenues in order to continue to grow. To facilitate investment into the same technology that the entire market relies on daily, exchanges, like any other for-profit company, ought to look to additional profitable revenue streams.
One potential conflict is that some of the exchanges run the SIPs while also selling direct exchange feeds that are effectively in competition with the SIPs. And it's not as if these capital expenditures have gone solely into making proprietary data feeds more profitable for the exchanges. Since 2008, SIP revenues have fallen 7%, while latency and capacity have improved.
It's important to note that the increase in SIP revenue between 2014 and 2015 is attributable to the non-display consolidated feed charges implemented in the first quarter of 2015, resulting from the rise in demand from the increased usage of algo trading and other data-consuming trading protocols. Some examples of non-display use include automated order or quote generation, surveillance programs, risk management, and compliance. Before the advent of highly automated systems, exchanges would charge fees for data based on "eye-balls." Now, with a majority of market participants using highly automated systems, the exchanges have extended fees to cover these new non-displayed usages.
As a result, the exchanges have been able to increase revenue associated to the SIP data they provide and, in return, decrease the average latency on the quote feed from over six milliseconds in 2010 to 130 microseconds for Tape A&B and 17 microseconds in 2018 for Tape C SIPs—an improvement of 99% from 2010 latency highs.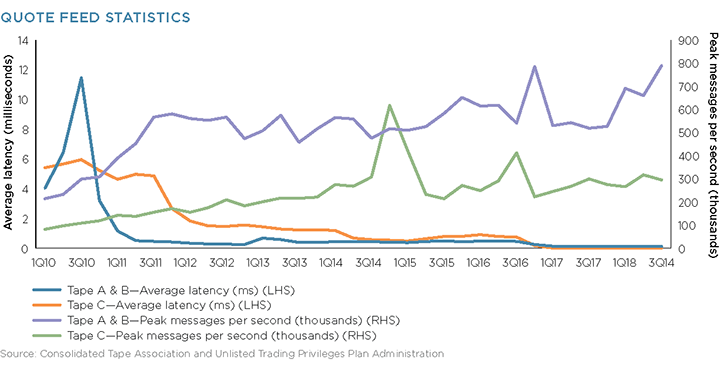 Latency differences between Tapes A&B and Tape C could be attributable to differences in messages and trades. Tapes A&B have peak message rates over 250% greater than Tape C. In addition, on August 22, 2013, Nasdaq shut down trading of its listed securities due to a connectivity issue preventing the SIP from disseminating price quotes. As a result of the three-hour shutdown, Nasdaq's control and operation of the Tape C SIP came under scrutiny. In order to regain control of the SIP, Nasdaq vowed to make technological upgrades and, as a result, reduced latency to under 25 microseconds by 2017.
Conclusion
NYSE and Nasdaq are open to reworking the system. SIPs provide consolidated, valuable information, such as the NBBO and post-trade reported transactions. The SIPs are currently governed by a consortium of operating exchanges and FINRA. Nasdaq has suggested that the authority of broker-dealers, through the advisory committees, should be expanded to provide additional guidance into how the SIPs are run.
If the SIPs are improved and meet the needs of the majority of broker-dealers, hedge funds and other market participants, perhaps the reliance on exchange feed data will diminish. As of now, only 2% of buy-side institutions participating in our 2018 Market Structure and Trading Technology Study would use algos with market data from SIPs. If regulatory changes could clarify that this would fulfill best-ex obligations, 34% would do so. Nearly 40% of respondents would not trade based solely on SIPs and argue that proprietary exchange data is essential for their business.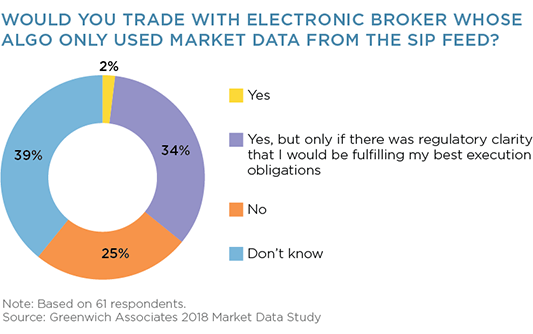 Many market participants would like a world where access to enhanced data is available for a fee, but it's not required to remain competitive and in compliance. For most, ultra-low latency may not be required. HFT firms, on the other hand, are in favor of access to ultra-low-latency-enhanced data to afford them a competitive advantage. Firms will be able to make the cost-benefit analysis as to whether or not the ultra-low latency provided by exchange feeds and the additional data, such as imbalance and depth-of-book data, is truly critical to their success, and whether paying a fee to access this ultra-low latency is essential.

1https://www.sec.gov/news/public-statement/statement-chairman-clayton-2018-10-16
2https://www.sec.gov/comments/4-729/4729-4555206-176185.pdf
3http://nasdaqtrader.com/Trader.aspx?id=colo
Methodology
In Q1 2018, Greenwich Associates interviewed 201 market data professionals and users in order to understand their usage of market data products. Data products covered include direct exchange feeds and consolidated feeds.