The long-term success of your CX program hinges on a disciplined communication strategy. This goes beyond reporting the customer feedback. It is more targeted on showing senior management's support and building trust throughout the organization.
I work with clients around the globe to create a detailed playbook of communication methods and strategic deployment guidance that will set the CX program up for long-term success.
CX is Here to Stay - Branding Your CX Program
Effectively communicating the purpose and objectives of your CX program internally is a key requirement for a best-in-class program. It is important to distinguish the CX program so it's not perceived as the next flavor-of-the-month initiative. Some frontline employees will continue to do what they have always done: choose to ignore the CX program or wait for it to disappear like so many others.
You can change that impression by ensuring the CX program has internal branding that drives instant recognition, buy-in and behavioral change.
Frontline Communication
The communication strategy must be led from the top down—but never forget the value of the direct manager. I find that a strategy that includes communication templates helps guide all levels of the organization to help promote the CX program. For example, I recommend templates for a quick "meeting in a box" that can provide mid-management-level talking points and branch-level weekly meetings.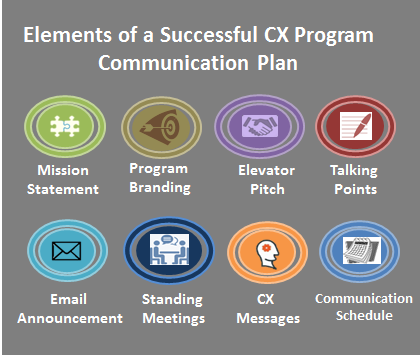 Mission statement: Outlines the guiding principles of the program
Program branding: Legitimizes the importance and corporate support
Elevator pitch: Makes the program easy to explain
Talking points for corporate executives: Ensures key messages consistently delivered from the top
Email announcement: Reinforces the key messages of the program
Standing executive meetings: Provides a consistent forum to discuss the program, measure results and review key action items
CX messages: For social media, the corporate intranet and other planned events
Planned schedule of ongoing communications: Delivers high-level information from executive meetings to confirm management commitment
Create a Regular Rhythm
A communication release schedule that formally defines who should be given specific information, when that information should be delivered and what communication channels will be used to deliver the information can help you create a communication cadence.
If you are ready to breathe new life into your communication strategy, download our communication release schedule template for some easy ideas on branding it for your organization. I can even help get you started.
This small step will go a long way to show to your staff that management is on board with this initiative and to make your CX program more successful over the long term.