As commercial and corporate banks continue to adapt to the COVID-19 situation, one of the biggest adjustments is the shift to the majority of senior executives now working remotely. This unanticipated shift in operating models presents bankers with a unique challenge. Relationship managers are working to build (and deepen) relationships without the benefit of face-to-face meetings.
Market preferences had already begun shifting toward digital channels, and we anticipate that COVID-19 will accelerate this trend - putting pressure on banks to digitize origination and onboarding processes.
Opening an account and initiating a new loan were among the remaining banking activities that executives have preferred to initiate in-person. The current environment of mandated social distancing is making these types of interactions less practical, which will further push clients to digital capabilities.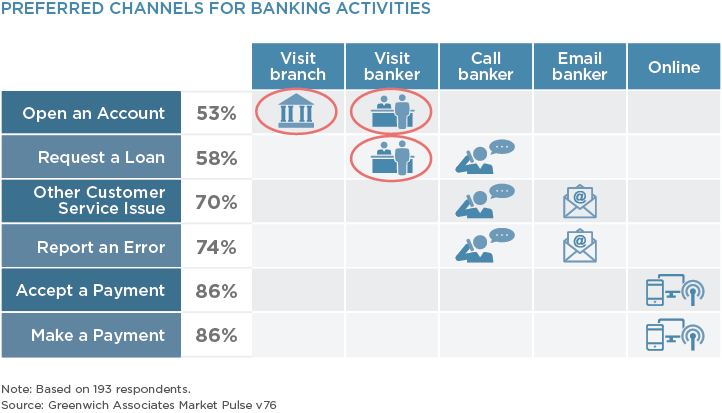 Large banks are better positioned in the new environment, bolstered by innovation and technology investments that will allow for a virtually seamless transition as the marketplace moves further away from historic norms for banking interactions.
However, for those banks where traditional "relationship banking" mentalities prevail, the current environment will create a meaningful problem as clients and prospects hunker down in home offices.
Banks that have lagged in digital investments are now at even greater risk of losing business to their digitally-enabled competitors. More than ever, companies need simple, intuitive and secure means to operate their businesses in uncertain times.
Learn more about how we advise banks on their digital transformation journeys.