Table of Contents
With only 29% of all small business and middle market customers having a more positive opinion of their bank during COVID-19, company owners and executives are projected to switch banks at 2 to 3 times the normal rate. Frustrations as a result of the pandemic are reducing barriers to switching bank relationships for commercial banking clients, ultimately leading to significant opportunities for aggressive competitors.
Those banks committed to customer experience prior to the onset of COVID-19 will thrive during this unprecedented crisis and are now positioned to gain market share.
Commercial Banking Standouts in COVID-19 Crisis
Greenwich Associates is pleased to identify those banks viewed by their commercial banking clients as "Standouts" in their response to COVID-19 during Q3 2020. Notably, those banks that outperformed on the Crisis Response Index experienced 40% less share at risk than those institutions that did not.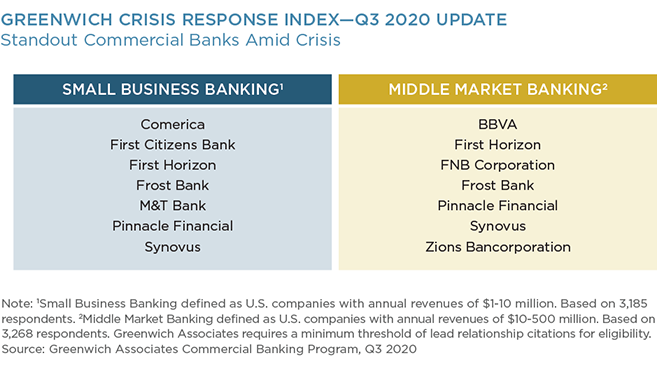 In order to capitalize on this unparalleled money in motion, leading banks need to continue to leverage data-driven insights derived from sales enablement and productivity tools to identify those dissatisfied commercial clients most likely to switch banks.
Sales, marketing and sales enablement executives at banks value prospective client profiles from small and midsize companies that incorporate detailed satisfaction levels on their current banking provider, including share of wallet, specific product recommendations and "next best actions."
Greenwich Associates welcomes the opportunity to share additional information about how expectations and perceptions are changing in commercial banking during this crisis. Connect with us to learn how to access unique, high-value data and detailed company-level information to drive revenue for your organization.